Special Coverage from the AONE 2019 Annual Conference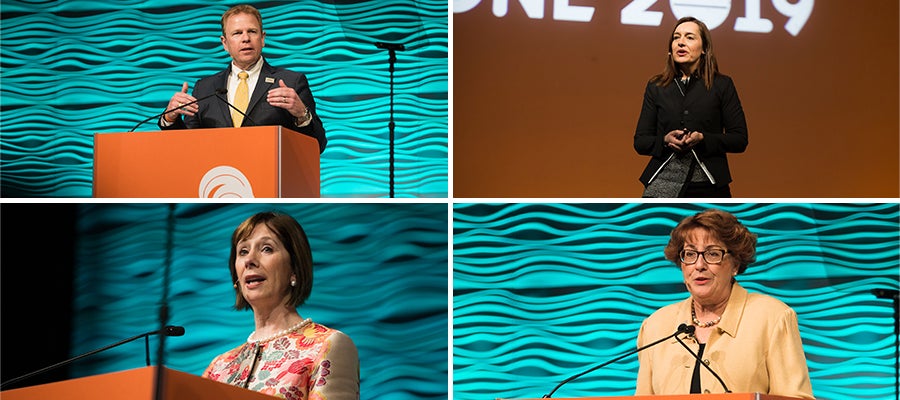 The AHA's American Organization of Nurse Executives subsidiary will change its name in May to the American Organization for Nursing Leadership, the organization announced today at its annual conference in San Diego.
"Over the years, AONE has expanded its opportunities, programs and recognition to encompass all levels of leaders," noted AONE Board President Mary Beth Kingston, addressing nearly 4,000 attendees. She said the new name "reflects what AONE is about and what nursing leadership has become." The organization will continue to focus on its core initiatives — providing education, advocacy and community, she said.
Author Sarah Robb O'Hagan opened the meeting with insight into how to lead change and learn from failures to create success, based on her executive experiences managing brands such as Gatorade and Nike. Indu Subaiya, M.D., executive vice president and co-founder of Health 2.0; Karen Hill, R.N., editor-in-chief of the Journal of Nursing Administration; and Amy Herman, who works with nurses and others to improve powers of perception, also spoke.
AONE also is presenting a number of its annual awards, including honoring Akron (Ohio) Children's Hospital with its Prism Diversity Award, and presented Giancarlo Lyle-Edrosolo, chief nursing officer at Providence Saint John's Health Center, Santa Monica, Calif., with its Pamela Austin Thompson Early Careerist Award. It presented Joy Parchment, director of nursing strategy implementation, Orlando (Fla.) Health with its Mentor Award; and honored the New York Organization of Nurse Executives and Leaders with its Affiliate Achievement Award.
On Friday, AONE's Foundation for Nursing Leadership Research and Education will present its 2019 Nurse Researcher Award to Maria Shirey, a professor and associate dean for clinical and global partnership at the University of Alabama at Birmingham School of Nursing.