AHA report, Hill briefing examine access to behavioral health care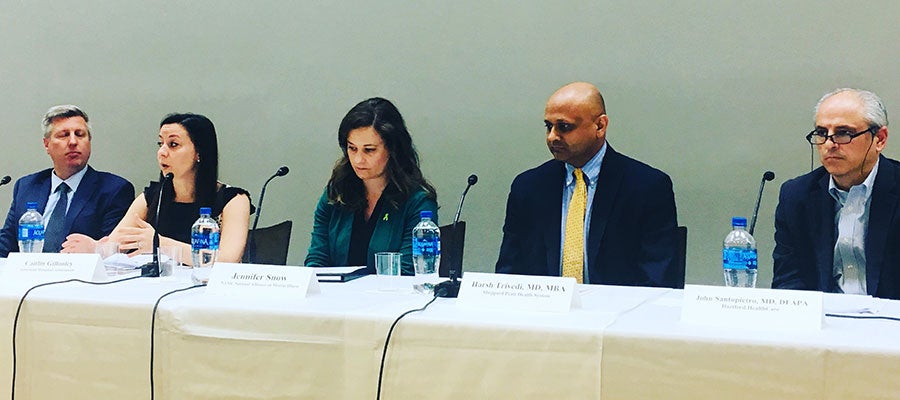 Pictured, from left to right: Erik Rasmussen, vice president, AHA; Caitlin Gillooley, senior associate director, policy, AHA; Jennifer Snow, director, public policy, NAMI, National Alliance on Mental Illness; Harsh Trivedi, M.D., president and CEO, Sheppard Pratt Health System; and John Santopietro, M.D., senior vice president, Hartford HealthCare, on the panel at today's behavioral health briefing on Capitol Hill.
As part of its efforts to promote behavioral health strategies, the AHA today released a TrendWatch report outlining the opportunities, barriers and solutions to increase access to behavioral health care.

The report, which was unveiled at a briefing on Capitol Hill, highlights how hospitals and health systems are identifying and addressing behavioral health care needs in their communities. Behavioral health disorders affect nearly one in five Americans, and less than half of adults with a behavioral health disorder receive treatment, according to the report.

The report also urges policymakers to address barriers, such as inadequate reimbursement and workforce shortages, and fully enforce the mental health parity law to support replication of successful health system strategies.

In order to have good public policy, "you have to direct resources as well as programs to what a specific population needs," said Harsh Trivedi, M.D., president and CEO of Sheppard Pratt Health System in Maryland, at today's briefing. This could include digital integration like using an app to seek help or visiting a primary care physician.

Sheppard Pratt recently conducted an informal pilot where they focused on the care of 1,300 highly complex patients – those most likely to be re-hospitalized or come to the emergency department. In one year's time, not a single patient was readmitted to the hospital, and 96 percent had no ED visits.

"So whenever you're talking about changing the face of health in America, it's these types of programs," said Trivedi, an AHA board member.

John Santopietro, M.D., senior vice president of Hartford HealthCare, agreed, saying that these types of upstream, preventive community interventions "cost pennies on the dollar to invest in," but can have a real positive effect for patients and communities.

See the AHA webpage for additional AHA resources related to behavioral health.