Highlights from the 2023 AHA Annual Membership Meeting (Days 1&2)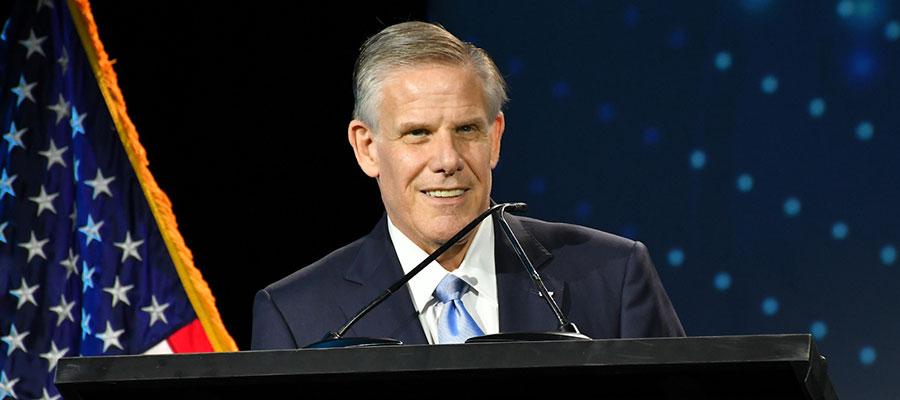 AHA CEO Pollack urges the field to go on the offensive

AHA President and CEO Rick Pollack opened AHA's Annual Membership Meeting by talking about three key messages that Congress needs to hear.

"We need to stabilize our financial situation; we need to strengthen our workforce; and we need to secure our ability to continue to serve our communities," Pollack said.
Pollack painted a stark landscape, reminding attendees that hospitals and health systems continue to face unprecedented challenges in the wake of the COVID-19 pandemic. The public health emergency may be over, Pollack said, but now the field is grappling with crippling financial troubles, unrelenting cyberthreats and dire workforce shortages.

"While so many have moved on from dealing with COVID-19, we have not, because we are now dealing with its aftermath and aftershocks," Pollack said.

In the face of a shifting public narrative on the importance and role of hospitals, Pollack urged attendees to reinsert themselves in the conversation and "sound the alarm," both with the public and with lawmakers.

"One of the biggest challenges we face in strengthening our field is the growing drumbeat of inaccurate, misleading, unfair and self-serving criticism against hospitals and health systems," Pollack told attendees. "We must tell the hospital story about all of the positive things we do every day, much more assertively and consistently than ever before."

The future of care delivery goes under the microscope

The future is in innovation, both in process and in thought, according to a panel of health care leaders at Sunday's Evolving Systems of Care for the Future session at the AHA annual meeting. The panel, which included AHA board member Tina Freese Decker, president and CEO of Corewell Health, and Jennifer Havens, CEO of UnityPoint Health-Grinnell Regional Medical Center, discussed how smaller organization can remain viable by refusing to remain complacent in their daily work, and instead face new challenges head-on.

"I'm tired of the status quo," said Decker. "And I think we need to really address the issues about health equity and affordability, about quality and safety, accessibility, and we need to move forward some innovative ideas to really transform that will then address some of the areas for customer care."

Also participating on the panel, former Federal Trade Commissioner Noah Phillips discussed antitrust law and the FTC's scrutiny of mergers, with labor questions driving many compelling arguments in favor of combining hospitals.

Panel touts integrated care as solution to behavioral health care crisis

Patients are facing difficulties accessing care, while hospitals struggle with workforce and administrative challenges arising from prior authorizations, paperwork and other burdens, according to a panel discussion Sunday focused on behavioral health.

Panelists Patrice Harris, M.D., CEO and co-founder of eMed and past president of the American Medical Association, and Arpan Waghray, M.D., CEO of the Well Being Trust at Providence Health and past chair of AHA's committee on behavioral health, considered challenges and solutions for communities in a wide-ranging discussion moderated by Harsh Trivedi, M.D., president and CEO of Sheppard Pratt.

The panel discussed solutions such as pairing with community partners and local schools; greater transparency from insurance companies; and better integration between mental and physical health.

"The only way forward now is integrated care," Harris said. "There is no one right way to do it, but we have to make sure we are making those connections between primary care and behavioral and mental health."

Skogsbergh presented with AHA Distinguished Service Award

Jim Skogsbergh, co-CEO of Advocate Health, today received AHA's highest honor, the 2023 Distinguished Service Award, during a ceremony at the annual meeting in Washington, D.C. Skogsbergh was recognized for his long career as a leader on transformation and innovation, patient safety and population health and his abiding commitment to the communities Advocate Health serves. LEARN MORE

'We're going to have to adjust': What's ahead on the legislative agenda

The health care workforce, 340B Drug Pricing Program and end of the COVID-19 public health emergency are at the forefront of AHA's discussions with lawmakers, said Stacey Hughes, AHA's executive vice president of government relations and public policy, during the annual meeting opening plenary. Hughes discussed these and other key issues with Frank Sesno, former Washington bureau chief for CNN, during a wide-ranging conversation of what's affecting hospitals and health systems on Capitol Hill and AHA's advocacy agenda.

The discussion touched on the upcoming battle over the debt ceiling, the May 11 PHE end, preserving the 340B program, and workforce issues — including the necessity of passing the Safety from Violence for Healthcare Employees (SAVE) Act, which would make violence against health care workers a federal crime.
"If we can get a groundswell of support for [the SAVE Act], I think we can get there," she said. "This is the one area that is bipartisan. The seriousness of this issue has caught Congress's attention — they know it's happening in their backyard."

The importance of the 340B Drug Pricing Program was a central point of discussion, with Hughes referring to the program as "a lifeline" that many would like to see reduced or eliminated. Hughes stressed the AHA's commitment to the program and the vital aid it provides to hospitals and health systems across the country.

The end of the PHE will be the beginning of some major changes in health care. Though some elements of the PHE have been codified for another two years, such as the hospital-at-home and some telehealth programs, Hughes said, "We're going to lose some of the flexibilities we gained during the pandemic. We're going to have to adjust."

Workforce issues have been at the center of the multiple crises hospitals and health systems have and will continue to face. With the health care workforce facing high turnover, burnout and a pipeline that's too small, Hughes discussed the importance of investing in faculty and innovative apprentice programs that provide alternative ways for people to enter the health care field.
CMS leader: Agency working at the payment level to relieve hospital challenges

The Centers for Medicare & Medicaid Services is rethinking its payment policy, rules and overall structure as it works to present a better reimbursement landscape for health care providers, Jonathan Blum, CMS principal deputy administrator and chief operating officer, said during a fireside chat today with Ashley Thompson, AHA's senior vice president of public policy.

"We have really tried to reset the program going forward, we want marketing to be fair, to be accurate, payments to be fair, to be accurate, and take away friction in the system," Blum said, emphasizing the agency's concern with alleviating the tremendous stress throughout the nation's health care system.

Sen. Mark Warner urges nation to put cybersecurity first in fight to protect sensitive data
Health care cybersecurity has too often been an afterthought, with protections added after an internal review or external attack discover a vulnerability, Sen. Mark Warner, D-Va., told moderator former CNN Washington bureau chief Frank Sesno at today's federal plenary session.

Warner called for a clearer chain of command at the federal level when it comes to health care cyber policy; a "bill of sale" to make medical device software more visible to patients and providers; and minimum mandatory cybersecurity standards for the health care field.

"I don't think you can just say 'another unfunded mandate,'" Warner said about the costs of building a stronger cybersecurity shield for health care. "But we've put up with a lot of technology where some firms, frankly, put out vulnerable product on an ongoing basis."
Putting cybersecurity first, rather than looking at it as tool to use after a system has been compromised, is the best way to protect sensitive data, he said. "It's like washing your hands before you go into the OR. Otherwise, you find it's the weakest link in the chain where the bad guys can get in."

Pressure Points: After COVID-19, times are tough, but silver linings abound

Research presented by acclaimed health care finances expert Lisa Goldstein, senior vice president for Kaufman Hall, show that times are tough but hospital leaders indicate there are silver linings from the COVID-19 pandemic that will pay dividends moving forward.

"For the first time that I've ever seen, we've got all three legs of the stool, if you will, all three components of running a business that are under pressure, which means for 2023, it's going to be a tough year ahead," Goldstein said. "And the rating agencies have said this, they're all have negative outlooks on the sector as we go forward."

Goldstein said hospitals should focus on how they can preserve the cash they have on hand, particularly in uncertain times.

In a discussion moderated by AHA Chair-elect Joanne Conroy, M.D., president and CEO of Dartmouth Health, Cathy Jacobson, president and CEO of Froedtert Health, and Michael Stewart, CEO of Saline Health System, expressed how adapting to this new environment starts with advanced analytics that offer new operational understandings. In addition, Stewart said the pandemic reaffirmed that community partnerships are critical to elevating care, particularly in areas outside hospitals' expertise, like transportation.
White House COVID-19 Response Coordinator speaks on the end of the public health emergency

Addressing the AHA annual meeting today, Ashish Jha, M.D., White House COVID-19 response coordinator, whose term will end May 11 with the COVID-19 public health emergency, reflected on his time in the Administration. Dr. Jha discussed the lessons learned; how to manage the virus in the future as COVID-19 transitions from a pandemic to an endemic; and strategies to help hospitals and health systems fight the next fight — including ensuring access for the uninsured, expanding at-home testing and treatment, and using telehealth in effective ways. Part of the fight, he said, must be against unsound, unscientific and biased information.

"It is the obligation of all of us to flood the zone with good information," he said. "The best way to counter bad information is with good information."

VA leader: Access to care, workforce among our shared challenges

The Veterans Affairs health care system shares many challenges with its non-federal counterparts, and workforce recruitment and access to care are at the top of that list, VA Under Secretary for Health Shereef Elnahal, M.D., told AHA annual meeting attendees today during a conversation with AHA Chair-elect Joanne Conroy, M.D., president and CEO of Dartmouth Health.

"That's what I wake up and go to bed thinking about every night, knowing that we've got a huge upcoming surge in demand," Elnahal said. "And that the VA in the past has been called out, I think appropriately, for access to care issues. The question becomes: do we have the capacity to actually deliver on the promise that we're making to veterans?"

Elnahal said VA is making an effort to make its health system an attractive place to work by providing incentives for new hires, including bonus payments and student loan repayment.
Four-star admiral: Future pandemics, climate change warrant prominent discussion on the global threat landscape

The array of global threats and challenges are myriad, retired Navy Adm. James Stavridis told hospital and health system leaders today, noting that future pandemics, coupled with climate change, must be counted as serious concerns.

"This, I think, needs to be understood as part of our security challenges just as surely as the geopolitical challenges are," Stavridis said.

Stavridis called for using innovation to address such challenges, in concert with collaboration, team building, finding the right leaders and communication.