AHA board member Christina Campos: Policymakers need to ensure access to care in vulnerable communities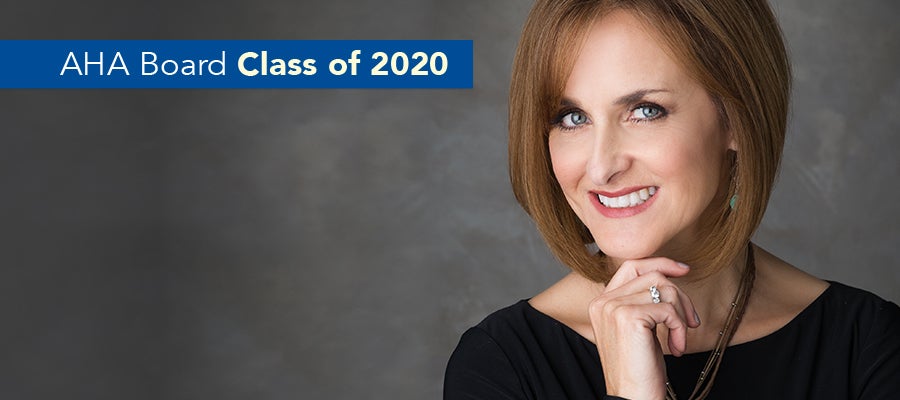 Too many decision makers in Washington, D.C. don't understand what it is like for a small rural or frontier hospital to provide care in a rurally isolated region of the country, says Christina Campos, the administrator of 10-bed Guadalupe County Hospital in tiny Santa Rosa, N.M.
She says federal policymakers often overlook the unique challenges facing small rural health care providers when drafting health care legislation or regulations that cut hospital funding.
"I don't think [policymakers] realize that when they paint with a really wide brush, in terms of rule-making, it affects these rural micro hospitals differently, and these hospitals often don't have the margins to survive the cuts," says Campos, who joined the AHA board on Jan. 1. "The majority don't have the reserves that will allow them to switch gears and change strategies for the future."
Campos brings to the AHA board more than 13 years of hospital leadership experience on the front lines of frontier care. She wants to share with her colleagues her views on what it will take for small rural hospitals to continue to meet their communities' health needs as they grapple with lower Medicare and Medicaid reimbursements; difficulty in recruiting physicians; an inability to make infrastructure improvements; and an aging population, among other challenges.

Campos's Guadalupe County Hospital has the only emergency department between Albuquerque and Tucumcari – a 170-mile stretch of Interstate 40 that spans the lonely eastern half of New Mexico. Santa Rosa is home to less than 3,000 people, making it the largest town in a county with less than 5,000. More than a quarter of the population lives below the poverty line.
The hospital is a health care safety net and economic anchor for its rurally isolated community. "But as a small guy out here it's scary, especially in these times of constant change," says Campos, who notes that many small rural hospitals are fighting to survive.
"When a rural hospital closes, the danger to the economic health of the community is as significant as the risk to patients," she says. "Hospital jobs are some of the better paying jobs in the community; those are the college educated jobs. Studies show that soon after hospitals close doctors leave and clinics close. In isolated or remote areas, most people don't have the option to commute elsewhere for work. There is nothing else. So, you start seeing more and more people leaving town. Then schools and merchants suffer, and the community slides into a quicker decline."
Campos appreciates the support small rural hospital leaders receive from the AHA. Campos "wasn't aware of the value of being an AHA member" when she took over the reins at the county hospital. "I thought [the AHA] was for the big corporate guys," she says. "But I was encouraged to participate and get involved on [the Regional Policy Board] and was amazed at how much interest there was in my having input as a member."
Campos likens the AHA board's leadership role to "walking a tight wire." The association's educational programming, tools and resources are helping the field navigate a rapidly changing and uncertain health care landscape. At the same time, the association must continue to advocate for legislative and regulatory policies that protect resources dedicated to quality care and ensure access to vital health care services in the now.
"It is pretty dramatic that the AHA is telling the field that we have to redefine the H and that the hospital, as traditionally defined, is the not the way of the future," she says. "We have the long-term view that points to the horizon, with a greater emphasis on value, population health and robust outpatient services. But on a day-to-day basis we need to protect ourselves in the current environment or we are not going to survive long enough to get to that horizon."
Campos chaired the New Mexico Hospital Association in 2010 and 2011. She also has served on the AHA's Section for Small or Rural Hospitals Council and was a delegate to the AHA's Regional Policy Board 8, which includes Arizona, Colorado, Idaho, Montana, New Mexico, Utah and Wyoming.
In 2013, then Department of Health and Human Services Secretary Kathleen Sibelius appointed her to serve on the National Advisory Committee for Rural Health and Human Services.
Campos also was a member of the AHA's Task Force on Ensuring Access in Vulnerable Communities. The task force released a report last year that points to steps Congress and the administration can take to protect care in vulnerable rural and urban communities. It recommends nine strategies – or models – from which communities could choose to fit their unique circumstances and protect access to essential health care services.
"Understanding and taking advantage of all the options is critical to overcoming the challenges facing small rural hospitals," Campos says.
As part of that effort, Guadalupe County Hospital and five other hospitals founded in 2014 the New Mexico Network, an initiative to improve cooperation among small hospitals across the state. The network has expanded to 10 hospital members. The hospitals share information, hire experts and offer support and advice. At quarterly "peer committee" meetings, staff doing the same job in different hospitals get together to talk shop and share best practices.
The network is "incredibly beneficial because we are all small standalone hospitals, and this enables us to lean on each other," she says.
Guadalupe County Hospital also has harnessed the power of telehealth and virtual care services to provide better care to patients living in remote areas. And under Campos' leadership, the hospital became one of the smallest in the country to achieve HIMSS Analytics Stage 6 in the transition to electronic medical records. About one-third of hospitals have reached Stage 6, which represents the second-highest designation.
But there is only so much small rural hospitals can do – on their own or by pooling resources – to shore up bottom lines and meet their communities' needs. Campos returns to the theme that brought her to the AHA board: Ensuring access to care in struggling, rurally isolated communities requires fresh thinking and creative strategies from Washington's policymakers.
She has delivered that message at AHA-hosted briefings for legislators and their staff on Capitol Hill and at other advocacy events in Washington.
"My role is to humanize what is going on" in America's rural heartland, Campos says. "Even if you don't live in a rural community, you will be affected if you travel through swaths of America that have no health care … no emergency care within that golden hour or that platinum 15 minutes that improves the chances of saving your life. Quality rural health care matters. Ensuring access to essential health care services in vulnerable communities matters."