AHA's Charge is to Define the Future, says AHA Trustee Doug Cropper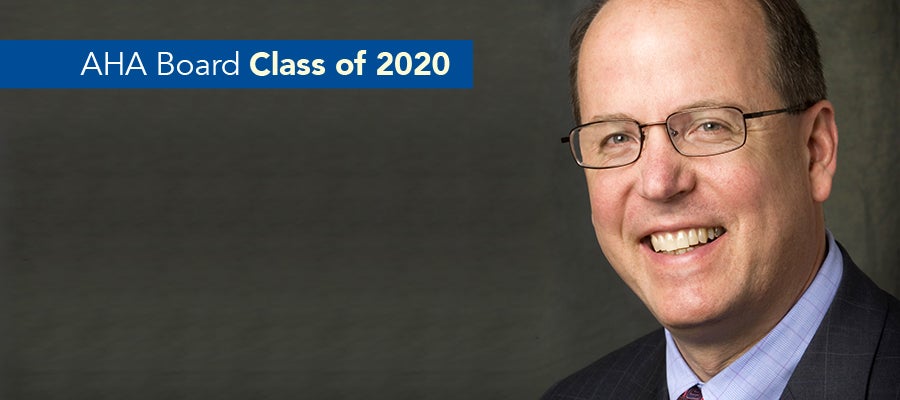 Perhaps the biggest challenge facing the AHA board is to "define the future" for hospitals and health systems, says AHA board member Doug Cropper, president and CEO of Genesis Health System in Davenport, Iowa.
Cropper notes that America's hospitals are continually transforming to meet the changing needs of their patients and communities – a transformation that the AHA calls redefining the "H."
"It is one thing to redefine the H," he says. "It is another thing to define a vision for the future. We all have to get on the same page as to what that future is likely to be."
Cropper serves on the board's health care strategy and innovation committee, which he says is looking at a health care future centered on innovation and affordability. He suggests the committee's work this year could pave the way for the board "to make a statement about our ability to take risk and drive down costs to the consumers."
He says the board needs to "agree on the basic concepts of the future, and then state that it is our intent to move to whatever that new model is. I think it is important to put a stake in the ground and say, 'we are committed as a field to move here and develop a more affordable health care model in the U.S.'"
While much is changing in the hospital world, what hasn't is the AHA's ability to serve as a strong national advocate and voice for the field, Cropper stresses.
"Everybody values the advocacy piece, especially in a tough year like last year when we were trying to protect the Affordable Care Act, and I think we have succeeded in doing that," he says.
Cropper notes that the AHA board includes "for-profit and not-for-profit health systems. There are small, medium and large hospitals, and rural and urban hospitals. The AHA's advocacy is what brings us all together."
Cropper began his health care career 37 years ago, starting out as a surgical orderly at St. Mark's Hospital in Salt Lake City. He joined Genesis Health System in 2008.
The health system provides health services to a 10-county region of Eastern Iowa and Western Illinois. It operates a hospital with two campuses in Davenport, hospitals in Silvis, Ill., DeWitt, Iowa, and Aledo, Ill. Genesis Health System also manages Jackson County Regional Health Center in Maquoketa, Iowa.
Genesis Health System is the largest employer in Iowa's Scott County, and the third largest in the Quad City area with about 5,000 employees, more than 800 physicians and 1,000 volunteers. The Quad City area encompasses five cities in northwest Illinois and southeastern Iowa.
One way the health system is redefining the H is by expanding health services in its communities. Its Genesis HealthPlex facilities offer "one-stop" access to care in the Quad City area.
HealthPlex "is a hospital without beds," Cropper says. "It has urgent care, imaging, labs, therapies and it has doctors."
Key to the health system's future success is "how well we are able to work with consumers or patients on an outpatient basis in their homes and connecting them to our primary care physician teams and coordinating their care," Cropper says. "Working with people in the community to keep them out of the hospital."
Before joining Genesis Health System, Cropper served as an executive vice president with Falls Church, Va.-based Inova Health System, and was campus administrator for its Inova Fairfax Hospital. He previously was administrator of St. John's and St. Joseph's Hospital and vice president of HealthEast in St. Paul, Minn.
In his Minnesota health care days, Cropper worked under Don Wegmiller, then-president and CEO of Health One Corporation, which later grew into Allina Health in Minneapolis. It was 1987 and Wegmiller served that year as the AHA's chairman.
Cropper names Wegmiller as a significant mentor in his life. "Don paved the way for me and now I have an opportunity [on the AHA board] to pave the way for others and leave a legacy of strong health care well into the future."