Haupert: AHA Board is Driving the "Value Equation"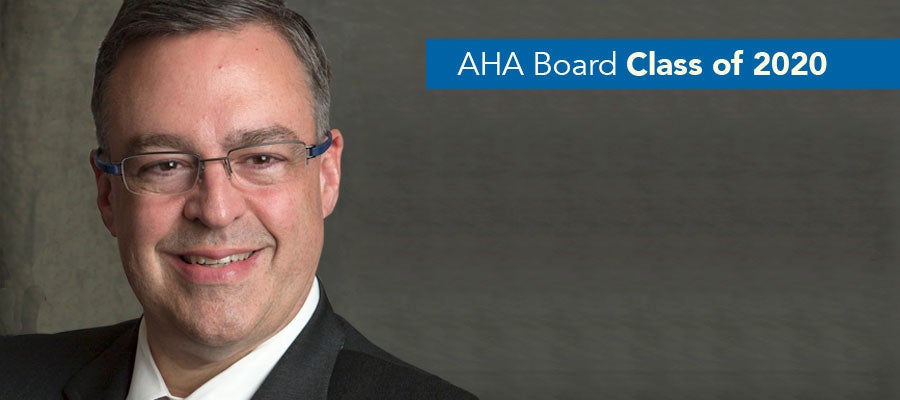 The Class of 2020 profiles the women and men who joined the AHA board this year.
AHA board member John Haupert is a strong proponent of maximizing value for patients by achieving the best outcomes at the lowest cost. He says the AHA's work on delivering value offers the field a much needed lens for focusing on how to make health care much more affordable for patients and communities.
"There needs to be a much deeper focus on the outcomes we are providing for our patients, as well as the cost of providing that care," says Haupert, president and CEO of Grady Health System in Atlanta.
He says "taking on the cost issue" is a big part of the AHA board's ongoing focus on value, which encourages hospital and health system leaders to explore value-based strategies to make care more affordable.
"We have to be more accepting of movement away from a fee-for-service environment" and towards a more value-based, performance driven future that "can provide the right care for patients in a way that make sense for them and has the best chance of improving or maintaining their health," he says.
Haupert has led an impressive organizational turnaround at Grady Health System, one of the nation's largest urban safety-net systems. It had a revolving door of CEOs – five in five years – before Haupert assumed the reins in 2011.
Before his arrival, there were some positive signs, as Haupert observes. With an injection of funds from philanthropists, a restructured health system made major capital investments after the hospital reached the brink of collapse in 2007. New clinical services were developed at Grady, which had long been the cornerstone of health care in Atlanta.
Then Haupert came on board and undertook a series of initiatives that included reducing its uninsured rate, partly by helping uninsured patients enroll in Medicaid; revamping its revenue cycle management; maximizing its electronic medical record system and improving senior care.
"The strategies have worked and we created a healthy bottom line, which helps us target the funding on our mission," Haupert says.
He is proudest of the health system's efforts to extend its reach deep into the community through initiatives like its six neighborhood health centers. The centers "get as much care as possible into the community where our patients live" and connect patients to a health care navigator and team of caregivers, Haupert says.
He says data suggests the initiative is reducing unnecessary hospital readmissions and health care costs, while increasing patients' access to care.
"I believe moving to that model will help us improve health and significantly reduce cost," he says. "We're moving much more towards a population health model. We're not just talking about that value equation, we are implementing it."
Haupert advocates for Medicaid innovations that can promote more value and affordability. He will moderate an executive briefing on innovative Medicaid strategies May 7 at the AHA Annual Membership Meeting.
He has supported efforts in Georgia to adopt a plan where federal matching Medicaid dollars would be used to help set up pilot sites that would give coverage to the uninsured, then manage their care and potentially improve their health.
"Such a pilot would provide funding to provide highly coordinated care for the uninsured and will result in improved health as well as lowering the overall cost of care for this population who primarily access care episodically and through emergency departments," Haupert says. "Establishing a primary care medical home for the uninsured would provide those patients with the medical, mental health and social services they need to improve their physical and mental health."
Haupert has spent his entire health care career "with some type of safety net institution serving high numbers of uninsured and Medicaid patients." Before joining Grady Health System, he served five years as Parkland Health and Hospital System's executive vice president and chief operating officer in Dallas. He previously held several administrative roles throughout Dallas-based Methodist Health System, where he got his start in 1992.
Haupert first served on the AHA's regional policy board (RPB) 7 – when he was with Parkland – and later as an RPB 4 delegate after moving to Grady.
He also was a member of the AHA's 29-member Task Force on Ensuring Access in Vulnerable Communities. The task force released a report in 2016 that outlined nine strategies designed to help preserve access to health care services in vulnerable communities. They include addressing the social determinants of health – a strategy embraced by Haupert.
"As a safety net institution, you are dealing with a vulnerable population," he says. "You can't just talk about health. You have to talk about housing, food, crime and violence. You have to address those social determinants first and then you can talk about health and maintaining health."