Hospital and Health System Leaders Share Strategies for Enabling Affordable, Patient-centered Care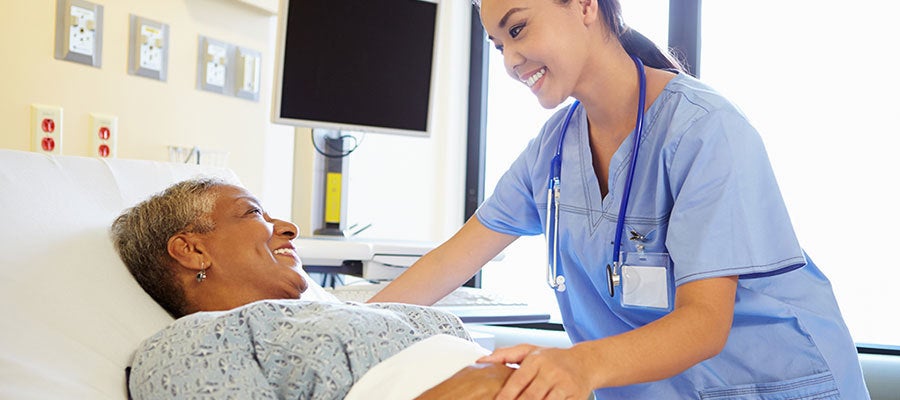 Hospitals and health systems across the country are finding myriad ways to provide affordable, patient-centered care to consumers, panelists said at the inaugural AHA Executive Forum. The health leaders discussed how innovating in-house, addressing the social determinants of health and examining an organization's patient population all played a part in their successes.
"For us, addressing the social determinants of health is absolutely key," said Larry Kaiser, M.D., president and CEO of Temple University Health System in Philadelphia.
Kaiser detailed how the health system uses community health workers to go into patients' homes and identify issues with transportation, nutrition, hunger and more. These efforts have helped keep a significant number of patients out of the emergency department, he said.
Kaiser said the health system also uses technical innovation to improve patient care. For example, one of the health system's pulmonary physicians developed an app that tracks in real-time patients with chronic obstructive pulmonary disease and can prescribe therapy to them at key moments. "We can keep them out of the emergency room where many of them had been basically accessing their care," he said.
Kimberly McNally, trustee at UW Medicine in Seattle and a former AHA board member, also has seen similar innovation firsthand. A physician at her organization partnered with their nursing and IT departments - and she connected with human-centered design experts - to develop a program that tracks symptoms of infection after surgery.
The physician "was able to come up with this amazing app where patients literally take a picture of their wound and report symptoms," McNally said. "And then, that's a web-based application that providers can get information from neatly, but also can get information on a service or a practice over time."
To make care truly patient centered, it is imperative to know your patient population, Kaiser said. In Philadelphia - which the U.S. Census says is the poorest major city in the country - access and demand are two big issues.
"Our ability to meet that demand has been limited somewhat by the access, so, one of the things we've done is completely outsource our call center," Kaiser explained. Patients expressed frustration over the complexity of the health system's automated answering system, so the organization switched to outsourcing its call service to the medical service and supply company McKesson.
"The sophistication of the people who are answering those calls allows them to get those patients to the right location the first time," Kaiser said.
Robert Hart, M.D., executive vice president and chief medical officer at Ochsner Health System in Louisiana, says that providers must take the initiative to reach out and ask their patients what they need. Ochsner partnered with an urgent care clinic to provide an entry point for the large percentage of its patient population who didn't have primary care physicians - mostly patients under 40 - to "give them that front door into providing them with other services," Hart said.
In addition, Ochsner had operated under the assumption that most of its patients wanted to be seen as soon as possible - until its leadership asked patients.

"We asked them, 'Do you feel like you need to be seen today?' and it actually dropped the number of people that we were trying to have to jam in," Hart said. "Just asking some of those questions allows you to look at the patient and be a little more patient centered."