AHA/UnidosUS Alliance is Strengthening to Address Youth Violence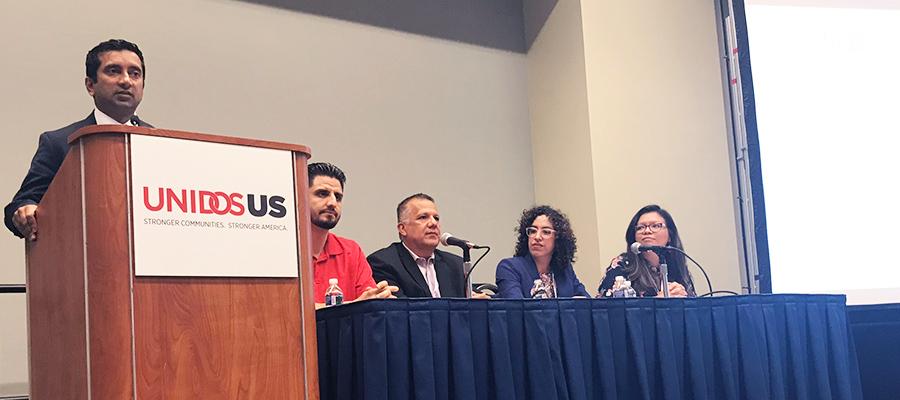 Building trust, breaking down barriers to access care, caring with compassion, coming with empathy and humility to the community, using data to drive decisions, and utilizing trauma-informed care – these are some of the key takeaways from a panel I recently moderated.
The AHA and UnidosUS recently formed an alliance to build healthier communities. As part of this effort, we seek to explore the interconnected forces that influence violence and trauma-informed practices, especially under heightened levels of adversity in our communities. Furthermore, the alliance aims to connect UnidosUS leaders with governance opportunities at AHA hospitals and health systems, increasing community voices and advocates toward fostering clinical-community linkages. This work also aligns with the AHA's Hospitals Against Violence initiative and its efforts to combat community violence by highlighting creative approaches in the field.
To that point, I had the honor of moderating a panel at the UnidosUS Annual Conference in Washington, D.C., this week. The panel featured Rosa Elena Sanchez Totochenko, Proyecto Cuídate manager, Erie Neighborhood House; Angelica Garcia-Ditta, school-based mental health therapist, Mary's Center; James A. Sifuentes, senior vice president, Mission and Community Development, Saint Anthony Hospital; and Arturo Carrillo, manager of mental health and family support at the Community Wellness Program, Saint Anthony Hospital.
The panel highlighted national and local community efforts to help create shared solutions – particularly around youth violence prevention and post-trauma support. Panelists also identified lessons learned, trauma-informed programming and other methods that advance health and healing among our ethnically diverse youth growing up in America.
Totochenko shared the importance of continuous efforts to improve trauma-informed programming and creating safe spaces for youth. We must ensure that we are creating a safe environment, building positive connections and focusing on resiliency, she added.
Building on the idea of safe spaces, Garcia-Ditta, a school-based therapist, highlighted the importance of schools as a safe haven to support youth impacted by trauma in their communities. Embedded in local schools, Mary's Center meets clients (students and their families) where they are and, thus, increases access to mental health care as well as youth engagement. Furthermore, Mary's Center provides culturally and linguistically appropriate services to foster trust in the communities served.
Saint Anthony Hospital, a safety-net hospital located in Chicagoland, serves and responds to the needs of socioeconomically disadvantaged communities. Whereas most hospitals have a payer mix of approximately 65% from commercial/private insurers, Saint Anthony Hospital only receives 1% of payment from commercial/private insurers, said Sifuentes.
When examining the health of this particular community being served by Saint Anthony's, the tie-in to trauma, stress and poor health outcomes is particularly important because it is a symptom of a larger problem driven by poverty and socioeconomic status. We cannot move forward without addressing the impact, inequity and issues of poverty, said Carrillo.
The AHA's work to address the social determinants of health and advance health equity, particularly in the form of novel partnerships and collaborations, underscores the imperative of change agents who are making a difference in their communities. It was an honor to not only discuss the work happening around the nation to address trauma and violence's impact on health outcomes, but also unifying to frame and build a narrative to highlight important stories.
To learn more about our efforts to help advance health in America, visit www.diversityconnection.org.
Jay Bhatt, D.O., is senior vice president and chief medical officer of the American Hospital Association, and president of the Health Research & Educational Trust.