Throwback Thursday: First Person Oral History with Kirk Oglesby, Jr.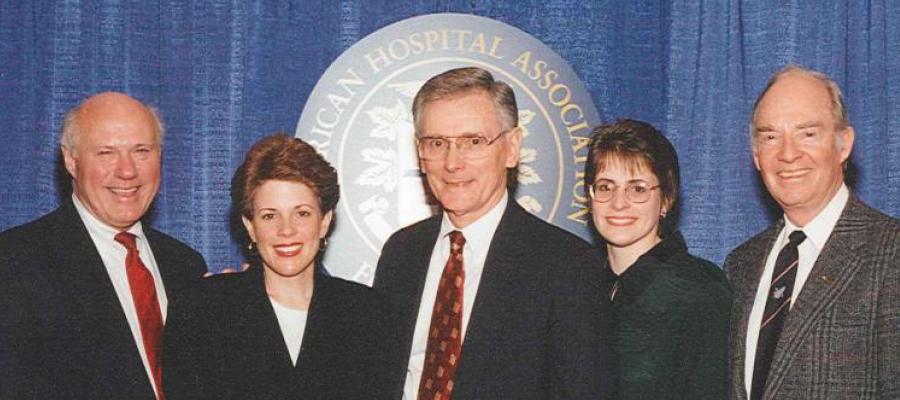 On Thursdays, we highlight an oral history featuring a health care leader who shaped the past and laid the foundation for the future. Since 1978, the AHA has conducted more than 100 interviews as part of this project, and transcripts are available in the oral history collection on the AHA's Resource Center webpage. The following oral history with Kirk Oglesby, Jr. comes from an interview conducted in 2011.
Kirk Oglesby, Jr. — recognized as a thoughtful, dynamic and results-oriented executive — enjoyed a health care career that spanned more than 45 years. Influenced strongly by the ethical values of his parents and his religious upbringing, Oglesby became known by the nickname of "Straight Arrow." Another influencing factor, said Oglesby, was participating in team sports. It taught him how to be a part of groups that had common goals, the thrill of winning and how to bounce back from failure. Oglesby carried these values and experiences into adulthood and his professional life.
Oglesby contemplated being a physician, and then a minister, but eventually realized he could still be of service to other people and make a difference in the world of business and management. After earning his Bachelor's degree in Economics from Davidson College, Oglesby earned a certificate from the Duke University program in hospital administration. His first position in health care was as assistant administrator at Blount Memorial Hospital in Maryville, TN. After a short time there, he became the administrator at Union Memorial Hospital (Monroe, NC) and then at Scotland Memorial Hospital (Laurinburg, NC).
Oglesby, best known for his 30 years at the helm of the current AnMed Health in Anderson, SC — formerly known as Anderson Area Medical Center or Anderson Memorial Hospital — retired in 1997. He served as chairman of the board for three prominent organizations of national scope –the American College of Healthcare Executives, the American Hospital Association, and the Joint Commission. For his accomplishments, Modern Health Care recognized him with induction into its Hall of Fame.
In this oral history, Oglesby discusses the changing relationship between physicians and hospitals or health system organizations; the dramatic addition of technology; and the challenges of creating a lower-cost, more functional system.
To read the full oral history transcript, click here.