AHA's Hospitals Against Violence initiative shares effective violence prevention strategies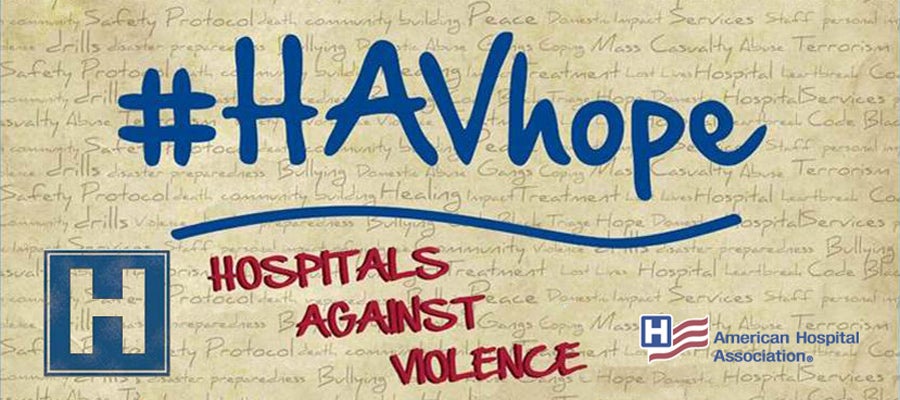 AHA Board Member Claire Zangerle, RN, chief nurse executive at Allegheny Health Network in Pittsburgh, moderated a dynamic panel at last month's AHA Leadership Summit that discussed effective violence prevention strategies and program development.
Zangerle opened the session by sharing information about the AHA's Hospitals Against Violence initiative and its ongoing efforts on youth violence prevention, workplace safety and the social media campaign, #HAVhope. She also discussed the AHA's work with Catholic Health Initiatives and Massachusetts General Hospital's Human Trafficking Initiative and Freedom Clinic, along with support from other hospital and health system members, as they advocated successfully for 29 new ICD-10 codes that will be available on Oct. 1 to allow providers to identify and assist victims of human trafficking and coding professionals to translate that information into data that will provide greater insights into the problem.
Ted Corbin, M.D., an associate professor and vice chair for research in the Department of Emergency Medicine at the Drexel University College of Medicine in Philadelphia, shared details from Healing Hurt People – an emergency department-based, trauma-informed intervention for victims of intentional injury. Corbin is the founder and medical director of the initiative, which has been implemented at five Level I trauma centers in Philadelphia. He shared stories from participants of Healing Hurt People and described how to communicate the value of violence prevention and the return on investment.
Laura Krausa, system director of advocacy at CHI, shared a large health system perspective and how that influences community-level work. CHI has a long-standing commitment to violence prevention and has shared tools and resources with the field, such as CHI's Violence Prevention Resource Guide, which Krausa co-authored.
Kevin Tuohey, president of the International Association of Healthcare Security and Safety and executive director of research compliance at Boston University and Boston Medical Center, focused on workplace safety, reporting and data collection. He shared more about IAHSS and its goal to assist health care leaders in providing a safe and secure environment and support national, state/provincial, county and local requirements. He also focused on the importance of defining and categorizing workplace violence, fostering a culture of reporting and creating a robust data strategy.
During the session, participants engaged with panelists on topics ranging from how to implement and sustain a violence prevention program, the impact of the political and social environment, the hospital's role in the community and the desire to continue the conversation.
To learn more about the AHA's efforts to combat violence in our facilities and communities, visit www.aha.org/preventviolence.