West Tennessee Healthcare collaborative improves behavioral health patients' access to care, reduces stigma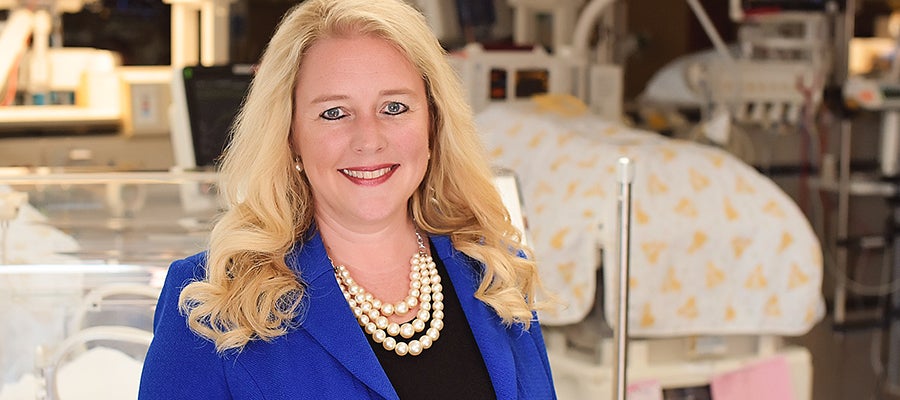 (Pictured: Lisa Piercey, M.D., executive vice president of West Tennessee Healthcare.)
The 2018 AHA Innovation Challenge was launched to provide an opportunity for AHA member hospitals and health systems to share creative approaches to integrated care delivery redesign and financing targeted to populations with complex needs. The response was outstanding, with nearly 100 submissions received.
In preparation for 2019, the AHA is currently seeking member input on the theme of the Innovation Challenge. We welcome your thoughts on what the area of focus should be (social determinants of health, specific populations, emerging models, etc.) Submit your ideas here.
When West Tennessee Healthcare's flagship hospital saw 108,000 visits in its emergency department last year – nearly double what it was built to handle – its leaders were alarmed.
"Behavioral health patients showing up in the ED is frankly not the best place for them to get care," said Lisa Piercey, M.D., executive vice president of West Tennessee Healthcare.
West Tennessee Healthcare's Pathways Behavioral Health Services and other community groups came together and identified several concurrent issues that significantly impact medical and mental health, well-being, community economics and resources.
They created an innovative solution – a project that has developed patient-centered interventions while reducing medical costs and other non-medical community costs. It also has helped reduce acute care hospital ED mental health visits and lowered substance use-related arrests and bookings.
"This is truly a collaborative community-wide innovation that is making a real difference," Piercey said.
AHA's Innovation Challenge helps inspire creation of West Tennessee Healthcare's project
When Piercey learned about this year's inaugural AHA Innovation Challenge, she worked with colleagues in her organization and stakeholders from the community to submit a project proposal, "Mental Health, Substance Abuse, Criminal Justice System: A Collaborative to Reach the Most Vulnerable."
Pathways Behavioral Health Services was one of 91 organizations that submitted proposals for this year's challenge, which was a unique opportunity for teams from AHA member hospitals and health systems to share creative approaches for integrated care delivery redesign and financing targeted to populations with complex needs.
West Tennessee Healthcare/Pathways received third place in the challenge, and was recognized for its efforts with a $15,000 prize at this year's AHA Leadership Summit in San Diego.
Crisis intervention training helps professionals respond to patients appropriately
The collaborative brought together community stakeholders to:
• focus on addressing access issues that often prevent behavioral health patients from getting the treatment they need;
• reduce acute care hospital ED visits by individuals with serious mental illness and/or substance misuse, by providing care in a more appropriate setting;
• expand the integrated model of mental health, substance misuse and criminal justice systems to create supportive environments for the most vulnerable populations; and
• reduce admissions to the county jail and the regional state mental health hospital
"Our specific objectives were just shy of world peace," Piercey said.
Part of the project entailed creating a 40-hour crisis intervention training to educate first responders, hospital security, law enforcement and others on how to address individuals with behavioral health disorders. Among other areas, the training includes education on suicide prevention, autism and how to de-escalate tense situations with behavioral health patients.
"The bottom line? It's not about putting them in jail," Piercey said. "That's what our efforts are all about, because that is not how people get better or how the system works."
A multi-pronged approach contributes to success
Five key aspects of the collaborative served as the crux of the program and contributed to its success, Piercey said.
Integration with the medical community. Because many behavioral health patients have difficulty accessing primary care, as well as specialists, it can be difficult for patients to get treatment in the proper setting. West Tennessee Healthcare added a 24/7 crisis walk-in center and crisis stabilization unit (CSU) on its main campus near the acute care ED, as well as co-located three behavioral health clinics in primary care physician offices so the patients need only stop next door to get behavioral health treatment or a consultation. This allows for medical professionals and behavioral health specialists to share information and come together to determine best courses of treatment for a patient.
Collaborating with law enforcement and judges. Patients with mental health disorders respond better in situations where officers and judges have special training in the unique needs associated with behavioral health disorders and in de-escalation techniques of agitated patients. West Tennessee Healthcare collaborated with law enforcement and first responders to provide CIT (crisis intervention team) training, mental health and recovery courts, homeless outreach teams, and "plain clothes" transportation – in an unmarked car without bars or handcuffs. This has reduced the level of agitation and stigma involved in behavioral health cases in addition to the number of involuntary committals, Piercey said.
Training the community to administer Naloxone. West Tennessee Healthcare received funding to provide training and proper administering of Naloxone to individuals in the rural West Tennessee area. About 70 people received the training, including firefighters, police, first responders, teachers, doctors and church leaders. "Putting the medication in the hands of community members is empowering," Piercey said. "It saves lives."
Creating space to treat pregnant women with substance use disorders. West Tennessee Healthcare and a local recovery center joined forces and converted a closed, rural hospital into a 16-bed residential treatment facility for pregnant mothers addicted to opioids, including post-partum mother/baby couplets, who are at high risk of relapse. "In a state that has three times the national rate of babies born to mothers addicted to opioids, this recovery center serves a crucial need to a very vulnerable population," Piercey said.
Implementing telehealth to improve access to care. With a significant shortage of psychiatrists and reduced availability of psychiatric hospital beds, West Tennessee Healthcare has turned to telehealth to fill that void and treat patients quicker.
Engaging with stakeholders means shared successes
The numbers showcase a collaborative that is working to improve the community's health while reducing costs. Piercey said that the collaborative has saved more than 42,000 jail days, which, at a cost of at least $35 per day, means nearly $1.5 million in savings to the state.
In addition, the program has decreased the number of acute care ED visits and state involuntary mental health commitments, an accomplishment Piercey credits to the crisis training and 23-hour observation unit for medication initiation.
Piercey credits the entire project's success to the true nature of the collaboration. She said this involves more than just talking every day – it includes the medical and behavioral health community being actively engaged with law enforcement organizations and local non-profits, and vice versa. She also stressed the importance of working together before considering a new community initiative, to determine all stakeholders' priorities, capabilities and needs
Once you break down the barriers and create a shared vision, Piercey said that you begin to see the positive results of those integrated efforts, and "that way, the patient wins every time."