Meet the Institute for Diversity and Health Equity's new president and CEO, Duane Reynolds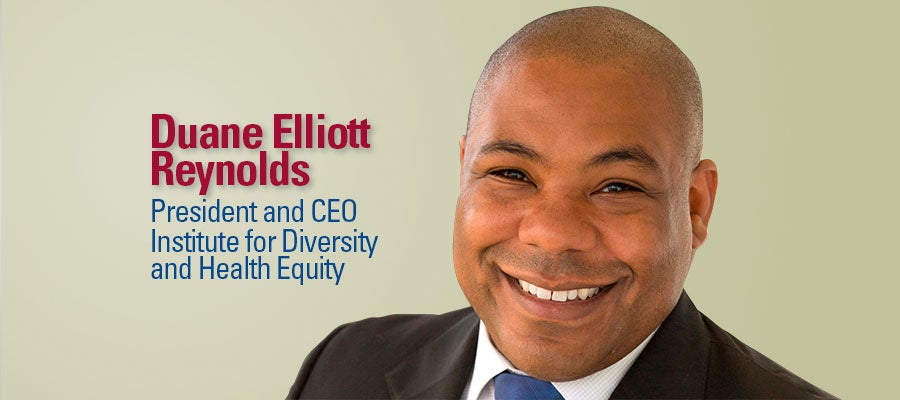 During my nearly 20 years in health care, most of which I spent leading health care operations in academic and community health systems, I have always championed diversity and inclusion. I realized early on that our ability to care for and improve the health of vulnerable and underserved populations is more than altruism, it also is the right thing to do for the business of health care.
I'm thrilled to serve as president and CEO of the AHA's Institute for Diversity and Health Equity. I have admired the Institute since its inception, and it is a privilege and honor to lead an organization focused on reducing health disparities, and advancing diversity and inclusion across the health care field. I thank all of the Institute's past leaders for contributing their knowledge and passion to advancing its agenda. Of particular note, I would like to recognize Cynthia Washington's steady leadership as the interim president and CEO over the past year and a half.
Before joining the Institute, I served as chief for diversity and inclusion and director of consulting, leading both internal efforts and the Health Equity and Inclusion practice at Optum Advisory Services (by way of acquisition of the Advisory Board Company). There, I designed access to care and service line strategies, developed and implemented diversity and inclusion initiatives, and elevated the significance of health equity as an imperative in the advent of population health.
In this time of significant transformation for our field, the business case for providing equitable care could not be more relevant. Building that case requires the ability to collect, analyze and act upon data that demonstrates the clinical and financial cost of disparities. This begins with the establishment of an inclusive work environment grounded in an understanding and appreciation for the nuances that diversity inflects upon our health systems.
In 2019, the Institute will continue to guide members in their pursuit of the advancement of diversity, inclusion and health equity in a holistic and strategic manner. We will elevate our expertise, education and service to advance overall well-being, health and quality for everyone.
I look forward to working as your advocate and partner in championing diversity, inclusion and health equity. I invite you to provide feedback on the future direction of the Institute so that we continue to improve our service and value. Should you wish to connect directly, please do not hesitate to reach out to me via email at duane.reynolds@aha.org.
Duane Reynolds is president and CEO of the AHA's Institute for Diversity and Health Equity.