Oklahoma hospital names new president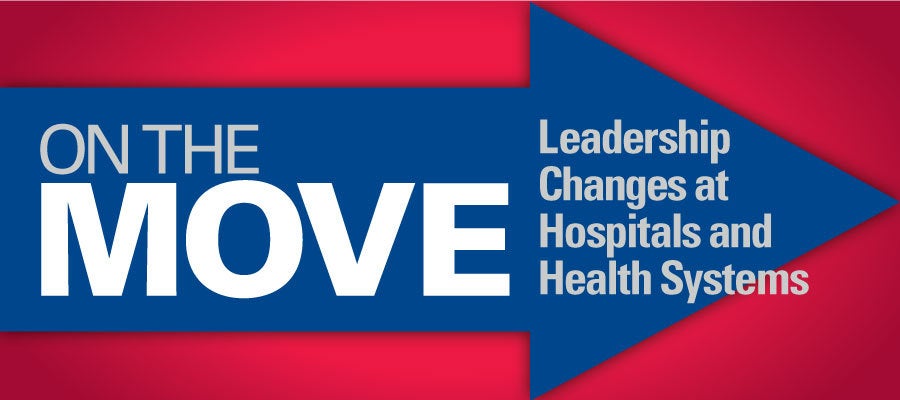 Oklahoma hospital names new president
SSM Health Oklahoma has named Angi Mohr, R.N., president of SSM Health St. Anthony Hospital–Shawnee (Okla.) effective Feb. 8. She has worked at St. Anthony Hospital–Shawnee since 1992, most recently serving as chief nursing officer and chief operating officer.
New London Hospital names CEO
New London (N.H.) Hospital, a critical access hospital and member of Dartmouth-Hitchcock Health, has named Martin Thomas Manion president and CEO effective in early March. He most recently served as vice president of Porter Medical Group at University of Vermont Health Network–Porter Medical Center in Middlebury.
Tampa General Hospital names new CFO
Tampa (Fla.) General Hospital has named Mark Runyon executive vice president and CFO effective March 2. He most recently served as vice president of operational finance at Intermountain Healthcare, a 23-hospital health system based in Salt Lake City.
Allegheny Health Network names new hospital CFO
Allegheny Health Network in Pittsburgh has named James Kanuch CFO of Wexford (Pa.) Hospital, which is set to open in 2021. He currently serves as CFO of the health network's West Penn Hospital in Pittsburgh.
Seattle Cancer Care Alliance names executive vice president
The Seattle Cancer Care Alliance has selected Aaron Crane as executive vice president. He has served as CFO of the alliance since May 2018.