Perspective: Top Speakers Headline AHA's 2022 Annual Membership Meeting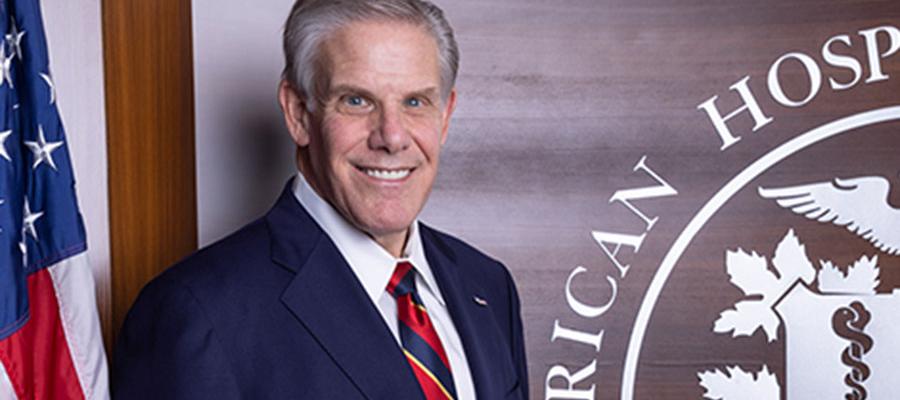 One month from now, we really hope to see you in Washington, D.C. That's when our 2022 Annual Membership Meeting kicks off in-person April 24-26 after a three-year pandemic induced hiatus.
We've built a program highlighted by nationally recognized speakers — from both sides of the political aisle — and special forums that bring together strategic ideas and relevant research with thought-leaders driving policy.
For example, AHA's immediate past Board Chair Dr. Rod Hochman will moderate a discussion on lessons from the pandemic and strategies to help hospital and health system leaders prepare for future pandemics. Panelists include Dr. Irwin Redlener, the well-known founding director of the National Center for Disaster Preparedness; Terry Myerson, CEO of Truveta, a privacy-safe data company, and Dr. Janice Nevin, AHA board member and president and CEO of ChristianaCare.
Another former Board Chair, Dr. Melinda Estes, will moderate a robust workforce forum that includes a fireside chat with U.S. Surgeon General, Vice Admiral Dr. Vivek Murthy.
Other sessions will spur conversations that put a strategic lens on workforce, equity, governance and so much more.
In addition, you'll hear from:
Sen. Joe Manchin, D-W.Va. — you might have seen his name in the news a few times this year — and Rep. Brad Wenstrup, R-Ohio, discussing the dynamics on Capitol Hill and the prospects for health care legislation this year.
FBI Deputy Director Paul Abbate, who will share his outlook on the current cybersecurity landscape.
Centers for Medicare & Medicaid Services Administrator Chiquita Brooks-LaSure about the top policy issues at the agency.
Robert Gates, a former CIA director and the only Defense Secretary to work for both Republican and Democratic Administrations, who will provide perspectives on leadership in divided times.
Dr. Anthony Fauci, chief medical advisor to the president, discussing the pandemic and public health.
Dr. Lee Fleisher — who oversees clinical, quality and safety standards for health care facilities and providers at CMS, on preparedness.
Michael Beschloss, presidential historian and bestselling author, who will offer historical context for today's political landscape.
Former NFL great Boomer Esiason will be on hand to help honor recipients of the AHA's 2022 leadership awards.
Margaret Brennan, moderator of CBS News' "Face the Nation," and Eugene Robinson, columnist for The Washington Post, discussing today's political environment and the dynamics of the mid-term elections.
There are many more speakers already signed on, and we're continuing to add new ones up to the start of the meeting.
It's a very full three days, but we've also reconfigured the meeting framework to create more time and space dedicated to networking opportunities so you can connect with colleagues.
Our networking space is in the hub of all the action… centrally located for quick access to phone time, face time with colleagues, and anything else you may need. We are also hosting live podcasts from the room!
The AHA's Annual Membership Meeting is an opportunity to renew, refresh and reenergize as we seek to strengthen and reimagine our health care system.
If you have not yet, please register here for our 2022 Annual Membership Meeting.
We look forward to seeing you there.