Role of Hospitals: Brookings Health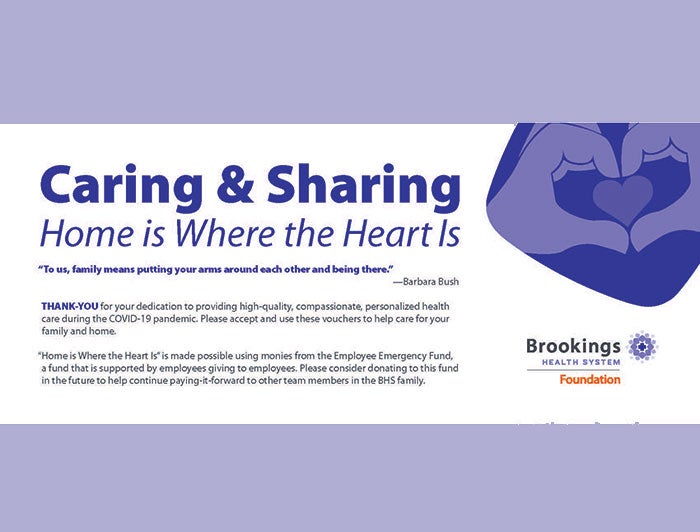 Brookings Health, a non-profit health system servicing Brookings, South Dakota and its surrounding communities, is made up of a hospital with 49 beds, a skilled nursing facility with 79-beds, congregate living apartments and three outpatient clinics. As the COVID-19 pandemic has hit hospitals and health systems, like Brooking Health, hard financially, it also has taken a toll on health care workers.
The pandemic has intensified health care workforce challenges, leading to significant staffing shortages across the country, as health care workers continue to experience stress, anxiety and burnout, according to a report from HHS. Other contributing factors include limited availability of training, an aging workforce and career changes.
During the community's first COVID-19 surge in 2020, Brookings Health System Foundation stepped up in a big way to support the health system's workforce. The Foundation recognizes that when employees start to feel "burnt out" with longer working hours and added stress, it affects their ability to be truly present during the few hours spent at home taking care of their families, and created a workforce wellness program called Home Is Where the Heart Is.
The program provides an opportunity to recognize employees for their dedication and help provide resources to support the physical and mental well-being of the hospital's staff and their families. Employees who work 100 hours or more per pay period receive vouchers for meals for their families and four hours of cleaning services to cover items such as house cleaning or laundry.
At the same time, Brookings Health is helping the local economy by partnering with local businesses to provide these services.
Brookings Health knows that better care for its workforce means better care for its communities. For more information, visit: https://sdaho.org/2021/02/24/home-is-where-the-heart-is-program-selected-for-innovations-from-the-field-series/
Resources on the Role of Hospitals