Banner Health Mandates Staff Vaccinations, Launches #ShotofHumanity Campaign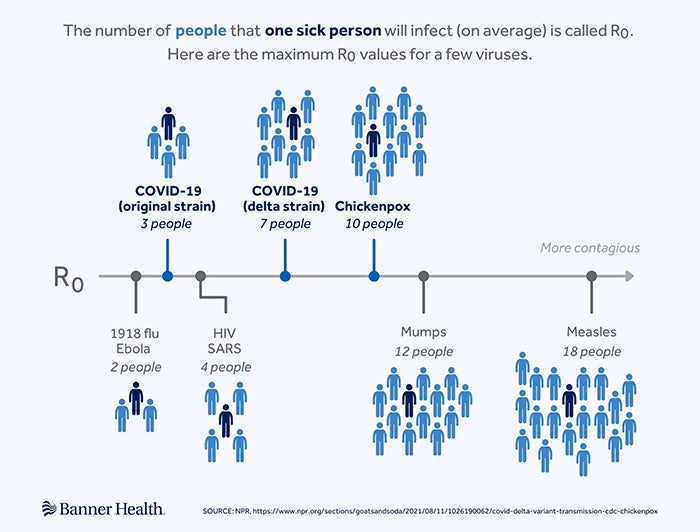 Photo Credit: Banner Health
In late July 2021, Banner Health announced that it was requiring all employees be vaccinated for COVID-19, "to protect patients, team members and the community." Based in Phoenix, the health system operates 30 hospitals, three academic medical centers and other health care entities across six states. In a press release, Pete Fine, Banner Health president and CEO said:
"We care for some of the most vulnerable people in our communities, and we owe it to them to take every measure possible to ensure the safest care environment. … Safety is an absolute priority, and the COVID vaccine mandate reflects that commitment. The vaccine data has fully supported the safety and efficacy to prevent disease and reduce its severity. There is overwhelming evidence for us to act on behalf of the communities that rely on us to care for and protect them."
Among the reasons for the mandate — according to the press release — are the rise of the delta variant, the need to prepare for flu season, and national data showing that 97% of hospitalizations and 99% of COVID-19 deaths are in unvaccinated people.
Since July, Banner Health has offered incentives for employees who are fully vaccinated and also provided paid time off to get a COVID-19 shot, mileage reimbursement and points toward its wellness program that includes health insurance discounts.
The health system continues to push out educational and inspirational content about vaccination safety, access and impact. Educational content highlights key statistics, with recent data tracking the growing number of COVID-19 cases in Maricopa County, where Phoenix is located. As of early August, nearly half of the total cases reported are people who are 20–44 years old.
Marjorie Bessel, M.D., chief clinical officer at Banner Health, answers questions about COVID-19 via weekly "Relentlessly Keeping You Safe" video interviews. She has urged people to get the COVID-19 vaccine and rely on "trusted sources of your health system, your own doctor and other scientists" for medically and clinically appropriate content. She said, "Please look and make sure that you're getting your information from a source that is scientifically and clinically oriented about things that are really important to you, your family and your friends as it relates to your health during this pandemic."
Bessel also cautioned, "We are entering in a very dark time of the pandemic. … Our hospitals are becoming full again, and they're becoming full with people who have COVID who are unvaccinated. … Please, go get yourself vaccinated, protect yourself, protect your family and protect your friends and colleagues."
In an upbeat #ShotofHumanity video posted on YouTube by Banner Health, striking aerial images show large, pre-COVID gatherings of people, as the narrator raps:
"A return to normalcy. Could it be?
No more empty spots in game-day parking lots.
We've untied the knot, finished the plot.
At long, long last, gotten our shot.
A shot of normalcy, a shot of protection.
A shot of clarity, comfort, connection.
Our shot at a return to sanity.
It's not just a vaccine. It's a shot of humanity."
COVID-19 Vaccine Resources