Clinicians Urge COVID-19 Vaccination to Defeat an 'Unrelenting Foe'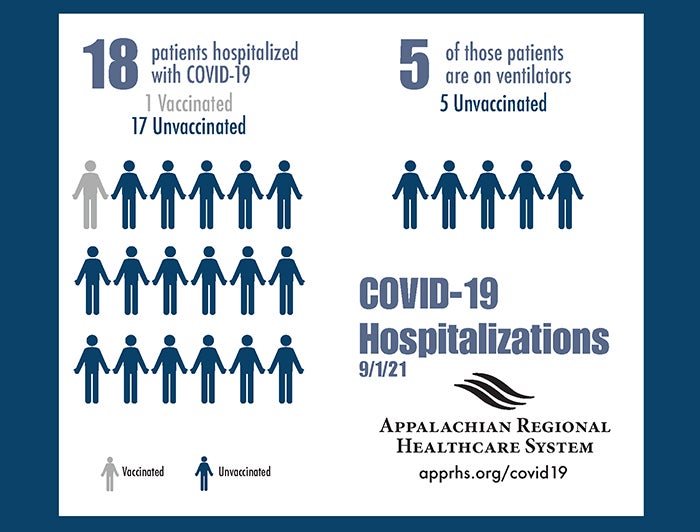 Photo Credit: Appalachian Regional Healthcare System
In mid-July 2021, no patients were being treated for COVID-19 at Appalachian Regional Healthcare System in Boone, North Carolina. But with COVID-19 cases trending upward again in Boone and across the state, hospitalizations started climbing too.
By mid-August, 20 patients at the hospital were being treated for COVID-19; of those, all but two were unvaccinated. Six patients were on ventilators — all of them unvaccinated.
On September 2, the rural health system hosted a "COVID Care Vigil" via Facebook Live, an opportunity for the ARHS team to gather with community members. Clinicians shared their firsthand experiences on the front lines of the pandemic, talking frankly about the struggles of patients fighting COVID-19 and the difficult conversations they've had with families. The clinicians urged people who hadn't done so to get vaccinated, pointing to the recent resurgence in COVID-19 cases and increased hospitalizations — mostly in unvaccinated people.
At the care vigil, Jennifer Nelson, M.D., an ED physician at Watauga Medical Center (part of ARHS) who resides in Boone with her family, shared that the "impact COVID-19 has had on our health care providers is difficult to describe in words."
Nelson spoke from the heart: "The first wave broke our backs, but I've never been more proud to stand beside my brave colleagues facing an unrelenting foe."
She added, "This wave has broken our spirits. We have more patients. They are sicker, they are younger, and the overwhelming majority are unvaccinated."
Nelson explained that though vaccinated people can get COVID-19, it's rare — since the vaccines are 92% to 96% effective — and said those patients are "far less ill" than the unvaccinated patients they see.
She stressed the importance of young adults getting vaccinated, addressing college students in particular, saying, "By simply getting vaccinated, you can save a life." She acknowledged that people have visited the ED with vaccine-related side effects and symptoms but said those symptoms generally are very mild. "There are currently no patients admitted [to ARHS facilities] with vaccine-related side effects or symptoms. All of our COVID-19 patients that are admitted currently are unvaccinated."
Other clinicians talked about how ARHS care teams work to keep every patient who is on a ventilator comfortable, including in the final moments of their life. He mentioned the tough conversations that physicians must have with some families — a conversation that starts with, "I'm sorry. …. There's nothing else we can do."
COVID-19 Vaccine Resources