Health System Teams with Emmitt Smith and Jill Biden on Vaccination Efforts for Teens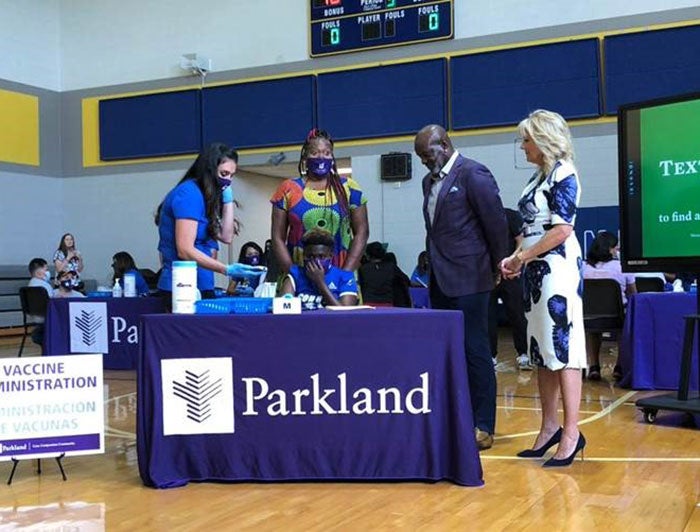 Photo Credit: Parkland Health & Hospital System
It was Emmitt vs. Emmett in a nail-biter clash that captured the nation's attention. Emmitt Smith, that is, visiting Emmett J. Conrad High School in Dallas to bring advocacy and awareness about the COVID-19 vaccine. Texas is lagging 5% behind the national average of fully vaccinated Americans.
The NFL running back legend had a dynamite team behind him, including Jill Biden, who has begun a national tour in support of President Joe Biden's continued push for vaccinations. The first lady reiterated the facts about the vaccine's safety, efficacy and affordability (i.e., it's free), encouraging attendees to tell their friends how easy and painless it is to receive. The real MVPs may be the Dallas Independent School District and Parkland Health & Hospital System, which have partnered to bring pop-up vaccine events to four high schools this summer.
The choice of venues makes sense. Since late May, the CDC has advised that children 12 years and older should be vaccinated, and schools with their open spaces (think: gymnasiums) are key places to hold vaccination events. Parkland has a robust community outreach program already, and the timing is excellent for kids and teens who may be enjoying summer break now, as school administrators anticipate classrooms at full capacity in just two months.
A 14-year-old high school wide receiver shook hands with Smith, just before he received his first COVID-19 vaccine dose. And while celebrity endorsements generally don't make the biggest impact on vaccination numbers, Smith is an obvious choice in this scenario. He is respected in the community, received his own vaccine shot at Parkland and connected with people who share his enthusiasm for the sport. Studies show those connections influence vaccine rates positively and help overcome reluctance to the jab.
The message remained positive about getting people back to doing the things they love and protecting those nearest and dearest to them. "This is all about immunity in the community," said Jennifer Finley, director of health services at Dallas ISD. "These clinics are available for you."
Smith added: "We are getting to the third and fourth quarter. So you know you must not stop, you must not quit, you must continue to press on. ... Stand up for the person to your right and to your left."
COVID-19 Vaccine Resources