Health System Vaccinates Patients Against COVID-19 at Discharge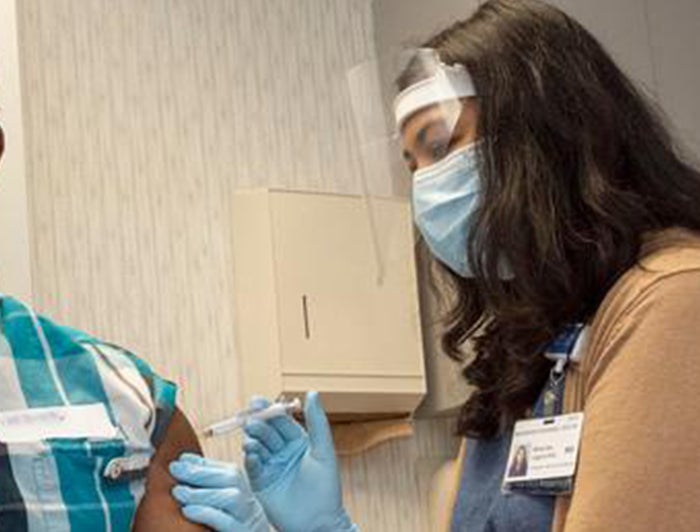 Photo Credit: UR Medicine
The Centers for Disease Control and Prevention is encouraging hospitals, emergency departments and emergency care facilities to administer COVID-19 vaccines to unvaccinated patients at discharge. Many hospitalized patients and ED patients are at higher risk for COVID-19 or its complications, so getting a vaccine prior to discharge may help reduce subsequent infection, morbidity and mortality.
University of Rochester Medicine (UR Medicine) has been vaccinating age-eligible patients, using the single-dose Johnson & Johnson/Janssen COVID-19 vaccine, prior to discharge or release from an inpatient stay or ED visit. This process started at Strong Memorial Hospital, located in Rochester, New York, in March 2021. At that time, the focus was on patients who require some type of long-term care services or support and those age 65 and older. It also included patients being discharged from or to residential or inpatient behavioral health care. The hospital projected 70 eligible discharged patients to receive the vaccine per day and between 400 and 500 per week.
According to Michael Apostolakos, M.D., chief medical officer, University of Rochester Medical Center, attending and bedside nurses talk to patients about getting vaccinated within 48 hours of discharge. These nurses explain the risks and benefits of the vaccine and offer patients the COVID-19 shot.
In an interview with Rochester First media, Apostolakos said, "People admitted to the hospital, some are not that ambulatory or may have trouble getting back to the hospital, so the fact that we get them while they're here before they go home and convalescent from their illness — we can get them vaccinated and have them be done and not have to return."
Apostolakos also shared that many patients and families have been excited to receive the vaccine.
As COVID-19 continues to spread and new variants like delta increase the risks for infection, UR Medicine has begun earmarking vaccine doses for discharged patients at hospitals and care facilities across its network.
The delta variant's presence also has caused UR Medicine, as well as other hospitals, health systems and public health officials across the country, to put the focus back on prevention and reevaluate restrictions. COVID-19 testing before medical procedures began August 23, 2021, for all patients at all UR Medicine facilities, regardless of vaccination status. In addition, masks are required of visitors at all UR Medicine health care facilities, regardless of vaccination status.
COVID-19 Vaccine Resources