Hospitals Share COVID-19 Survivor Stories to Urge Vaccinations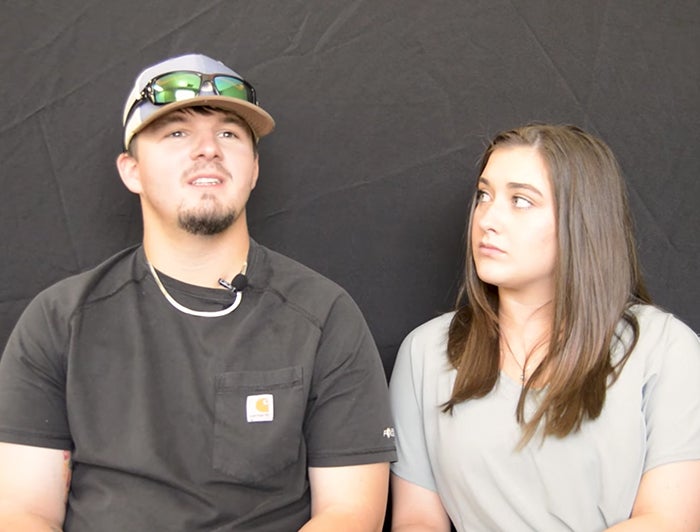 Photo Credit: Covington Hospital
Hospitals and health systems are leveraging the stories of recovered COVID-19 patients to encourage those who still have not been vaccinated to get the shot. Covington County Hospital in Collins, Mississippi, created a simple but powerful video featuring a COVID-19 survivor on its Facebook page. Isaiah, the 21-year-old patient, and Abby, his 19-year-old wife, explained their personal ordeal with the coronavirus. The newlyweds had been married only a couple of months when the unvaccinated Isaiah was put on a ventilator. Both described the horror of dealing with Isaiah's hospitalization and the uncertainty around his recovery.
He spoke frankly about how his thinking evolved: "My take on it [the vaccine] before I got put into the hospital was, it's new. … I didn't really take an interest in it because I didn't see it so serious." He added, "After I got COVID and went through it … [I think] it would be dumb not to get vaccinated."
Even while Isaiah was still in the hospital, Abby began the process of scheduling her own vaccination. "Why would you openly go through that again, when you can get something so simple to prevent it?" she said. Isaiah's age and the fact that Abby did not come down with serious COVID symptoms despite being in close proximity to her husband underscore the arbitrary nature of the virus.
Sometimes the change of heart comes directly from someone in the medical community. In an article on Johns Hopkins Medicine's website, human resources employee and COVID-19 survivor Joy Curbean-Johnson explains how she went from vaccine doubter to someone who now proclaims, "Get the shot." Curbean-Johnson and her whole family, including her mother, came down with COVID-19 earlier in the year. She was able to return to work in February, about a month after she first tested positive, but was soon experiencing debilitating pain in her foot. She had developed a blood clot that gave her "COVID toes," literally turning them purple and requiring emergency surgery. Still, Curbean-Johnson did not get vaccinated. "We have all these diseases that there's no vaccine for," she said. "Then COVID-19 showed up and a year later there was a vaccine for it? It seemed too fast."
Her own experience, as well as a news report that the majority of people being hospitalized or dying from COVID-19 infections were unvaccinated, finally convinced her to get the vaccine. "That's what did it for me," she said. "That's when I decided to get vaccinated. I should have gotten it a long time ago. But I'm glad I have it now." The Centers for Disease Control and Prevention recommends that even those who had COVID-19 are better protected if they receive the vaccination.
UC Davis Health in Sacramento, California, has made sure to share survivor stories in both English and Spanish, like the case of 42-year-old Saul Torres. Previously denying the virus could bother them, Torres and his entire family became infected, landing him in the hospital. He ended up losing 40 pounds, and the coronavirus is suspected to have triggered the onset of Guillain-Barré syndrome, which will require long-term physical therapy. Torres now strongly promotes the vaccine. "Seek out information and get vaccinated — don't wait until the point where I got," he said.
COVID-19 Vaccine Resources