Inova Health Supports the COVID-19 Vaccine Journey of a Hesitant Mom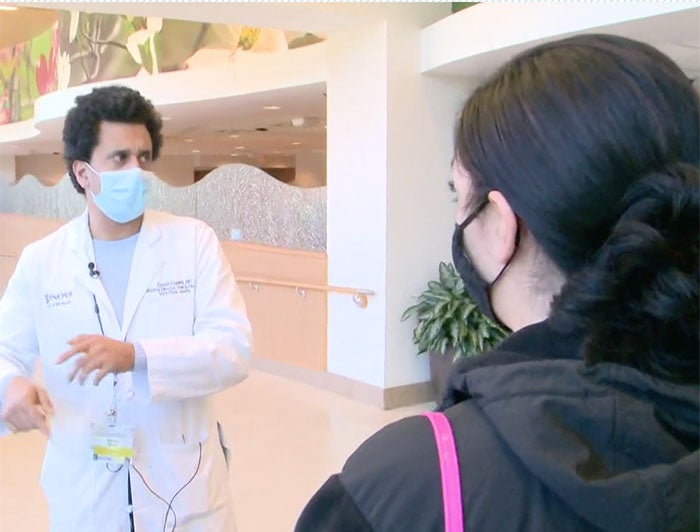 Photo Credit: WUSA-TV
Vaccine confidence remains low among parents. In fact only 27% of parents polled by the Kaiser Family Foundation said they'll get a child ages 5 to 11 vaccinated as soon as possible, with 30% saying they will "definitely not" vaccinate.
According to the Centers for Disease Control and Prevention, children ages 5 through 17 have the lowest COVID-19 vaccination rates among all eligible groups of people. COVID-19 diagnosis among kids rose 32% during the last two weeks of November 2021. The coronavirus now ranks as one of the top 10 causes of death for children ages 5 through 11.
Meet Shannon Lozoskwi, a mother of two children from Reston, Virginia, who allowed Inova Health and WUSA-TV, a CBS News affiliate, to follow her journey on overcoming vaccine hesitancy and getting shots into the arms of herself and her children.
Sam Elgawly, M.D., director of clinical excellence and patient flow at Inova Health, a nonprofit health system serving the northern region of Virginia, met with Lozoskwi personally to answer her questions about the virus and the vaccine. Lozoskwi shared her concerns about vaccine side effects, past medical conditions and speed of the Food and Drug Administration approval process.
Lozoskwi explained, "I just want to make sure I know what I'm walking into, that I don't make anything worse."
Dr. Elgawly understands that there are a lot of common myths circulating about the vaccine and that it's important for health care providers to help clear up confusion with reliable facts. "There's so much information out there. And one of the toughest things is how to sift in all this noise in social media," he said.
No doubt effective public health information is crucial — especially as new, more threatening variants like omicron emerge. As the pandemic continues to change and evolve, new information is coming at the public all the time.
When health care professionals like Elgawly make themselves available to listen to people's concerns about COVID-19 — from the latest wave of infections to vaccine eligibility to breakthrough infections and more — they can help manage feelings, address issues and inspire a willingness to get vaccinated.
Ipsos, a multinational market research and consulting firm, polled Americans and found that health care workers could play a key role in persuading hesitant parents to get their children vaccinated against COVID-19. The poll revealed that 40% of all parents and 43% of parents with children under the age of 12 admit their child's health care provider was the biggest source that would influence their decision on whether or not to vaccinate their child.
"[The COVID-19 vaccine] is almost magical in the effect that it's had. In medicine, it's not common to see something that definitively makes a difference, as I have seen with this vaccine. It's been an inspiration, honestly, to see something like that," said Elgawly.
According to the health system's website, Inova has administered more than 450,000 doses of COVID-19 vaccines since mid-December 2020. The website offers several educational resources, including COVID-19 Vaccine for Kids: A Guide for Parents; Hack the Vax, with strategies for reducing the stress of getting the vaccine; and booster shot FAQs.
COVID-19 Vaccine Resources