Jefferson Health Doctor Uses Social Media to Debunk COVID-19 Misinformation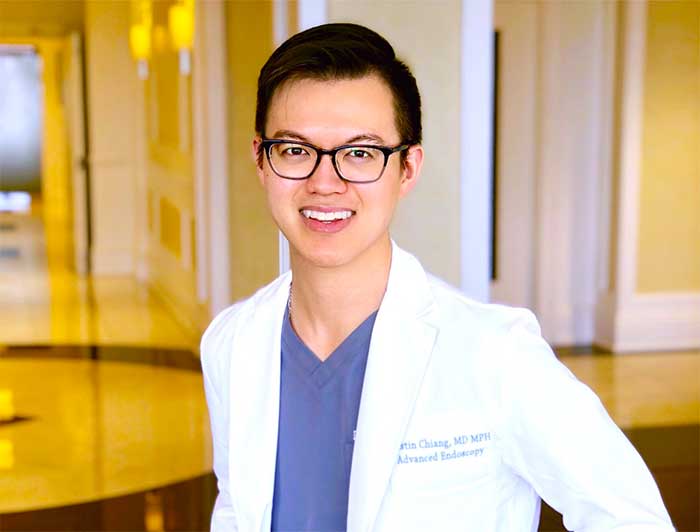 Photo Credit: Jefferson Health
Austin Chiang, M.D., a gastroenterologist and director of the endoscopic bariatric program at Thomas Jefferson University Hospitals, has become a viral sensation on social media. On TikTok, where he regularly racks up hundreds of thousands of views, the self-titled "Medical Mythbuster" waxes poetic on everything from weight loss fads to colon cancer screenings.
He's now using the popular video-sharing service to dispel myths about the COVID-19 and the vaccine. For Chiang, the coronavirus is still very much a part of everyday life, and he brings a playful but somber tone to addressing its nuances.
Aside from his clinical work, Chiang also is assistant professor of medicine at Jefferson Health and founding president of the Association for Healthcare Social Media, a nonprofit dedicated to helping health professionals get on social media and use it responsibly and effectively.
These social media efforts also have the endorsement of his home hospital system. In 2018, Jefferson Health brought on Chiang as chief medical social media officer, a position that exists in only a handful of hospitals. "We know the role that social media plays in delivering our message about health and wellness to the consumer," said John Brand, Jefferson Health's chief communications officer.
When an interviewer noted that he learned more from Chiang's 30-second dance summarizing news about the COVID-19 vaccine than from most articles he had read, this seemed to get at the core of the medical influencer's mission.
"There's a lot of great information coming up out of the media, but sometimes it just needs to be distilled into something that's more easily consumed, Chiang said. He added: "There's a disconnect with how patients are getting their information and where they're getting it from or who they're getting it from. Ultimately that translates to wanting to put out accurate information and share my expertise."
COVID-19 Vaccine Resources