Go for a Haircut, Get a COVID Shot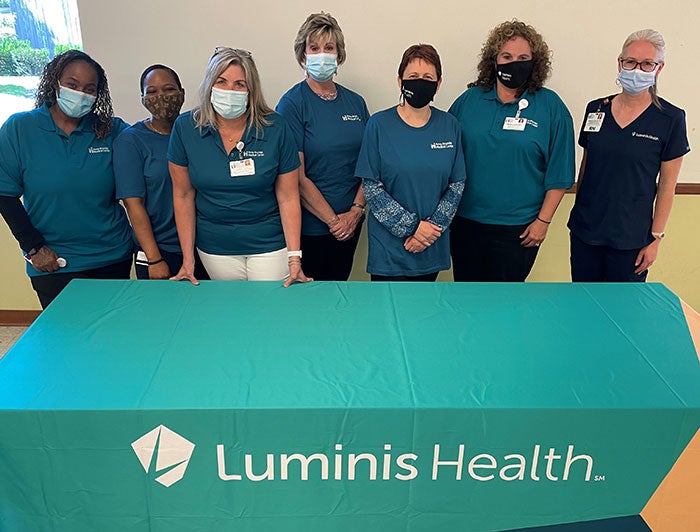 Photo Credit: Luminis Health
In early June, Luminis Health passed a milestone by administering more than 100,000 COVID-19 vaccines. The 100,000 shot was given at a community vaccination clinic run by Luminis Health at Mt. Olive African Methodist Episcopal Church in Annapolis, Md.
Though teams at Luminis Health have administered COVID-19 vaccines at large vaccination sties, outreach to local neighborhoods is just as important. Christine Crabbs, the director of community health for Luminis who manages the health network's mobile COVID-19 vaccination teams, told the Capital Gazette the teams go where they're needed. That means focusing on zip codes in the areas where the vaccination rates are low.
In May, Luminis partnered with the University of Maryland's Center for Health Equity to vaccinate customers at a barbershop in Hyattsville. The city of Hyattsville is still a COVID-19 hot spot, and it's located in Prince George's County, which has one of the lowest vaccination rates in the state of Maryland.
Community outreach to barbershops and hair salons is part of a national initiative to increase people's comfort level with the COVID-19 vaccine. "Shots at the Shop" is a partnership with the Black Coalition Against COVID, University of Maryland Center for Health Equity, the Department of Health and Human Services, Official Black Wall Street and SheaMoisure, which is committing $1 million to "engage barbershops and salons as community health advocates and vaccination sites," particularly in Black and Latino communities. Throughout the month of June, each participating shop will engage customers with information about the vaccines, display educational materials and host on-site vaccination events in partnership with local providers.
Luminis also received a $3.2 million grant from the state Health Services Cost Review Commission to support community vaccination clinics. Planned events include administering COVID-19 vaccines at the Juneteenth celebration in Annapolis.
Luminis Health owns Anne Arundel Medical Center and Community Hospital, which serve Anne Arundel and Prince George's counties in Maryland. Since the pandemic began, health system teams have been going door to door in the counties, first answering questions about COVID-19 and now about the vaccines.
COVID-19 Vaccine Resources