As Mardi Gras Nears, New Orleans Hospital Addresses Rise in Pediatric COVID-19 Cases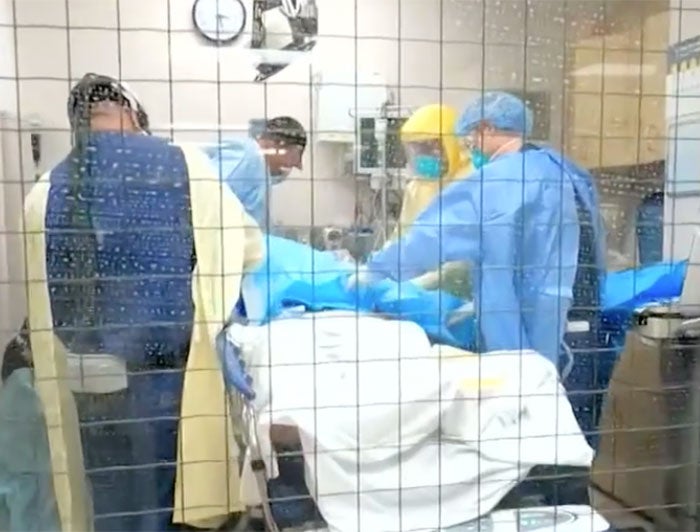 Photo Credit: Good Morning America video
The Louisiana Department of Health reported three children died from COVID-19 during the third week of February 2022, including two who were under 5 years old, and therefore unvaccinated, as well as one child over the age of 5 who was vaccinated. No further information will be released on the deaths.
"Every life lost is a tragedy. That we have lost 21 children in our state to COVID-19, many of them not yet eligible to get the COVID-19 vaccine, is unbearable," Joseph Kanter, M.D., state health officer, Louisiana Department of Health, said in a prepared statement shared with the local newspaper group, NOLA.com.
According to the latest reports from Children's Hospital New Orleans, about two-thirds of the children hospitalized with COVID-19 had underlying medical conditions.
Mark Kline, M.D., chief medical officer and infectious disease specialist at Children's Hospital, in an interview published on NOLA.com, explained, "I want everyone to realize when we talk about underlying medical conditions, it can be something as seemingly innocuous as being overweight or having asthma."
Kline also talked about multisystem inflammatory syndrome in children (MIS-C), a serious condition that appears to be linked to COVID-19. Children who have been diagnosed with COVID-19 and have gone on to develop MIS-C experience severe inflammation of some organs and tissues — such as the heart, lungs, blood vessels, kidneys, digestive system, brain, skin or eyes. It's something pediatricians are looking out for now, but have not seen evidence of yet, according to Kline.
When the numbers of pediatric COVID-19 cases began to grow in the U.S. and concerns over the potential risk to children's health escalated, a new study examined the virus's effects on American children who were being treated in intensive care units across the country.
Published in JAMA Pediatrics journal, the study reveals that COVID-19 can result in a significant disease burden in children, but also confirms that severe illness is less frequent. Children suffered from the virus's primary line of attack — severe respiratory problems, which have afflicted tens of thousands of American adults. Early outcomes for children who were hospitalized are better than for adults.
A COVID-19 vaccine is the best defense for children who are eligible — age 5 and up — and boosters are authorized for those 12 years and older. Yet most kids in Louisiana remain unprotected.
Nine percent of Louisiana children ages 5 to 11 are vaccinated, compared to 25% nationwide. "We're still pathetically low on the numbers of children who have been vaccinated," said Kline.
As New Orleans prepares for the 2022 Mardi Gras season and an influx of visitors, city and public safety officials, alongside state and federal partners, are preparing parade routes and keeping residents informed to ensure the carnival is safe and celebratory.
Children's Hospital New Orleans is urging people to follow COVID-19 safety guidelines, which will be in place throughout carnival season. The mask mandate has been reinstated for all indoor spaces outside the home. This includes bars, restaurants, hotels, carnival balls and all other indoor spaces, unless a person is actively eating or drinking. Everyone age 5 and older must show proof of full COVID-19 vaccination or a negative test taken within 72 hours to access indoor public spaces. Mardi Gras, or Fat Tuesday, falls on March 1 in 2022. Major parades, which draw as many as a million locals and visitors to city streets, begin the last two weeks of February.
Children's Hospital offers a wealth of information on protecting kids and families from COVID-19. As people continue to manage through the COVID-19 pandemic and prepare for the upcoming Mardi Gras season, the hospital's experts are available to answer COVID-19 questions and provide additional resources as needed.
COVID-19 Vaccine Resources