Mount Sinai Experts Discuss Omicron Variant and Urge 'Full Dose' Vaccination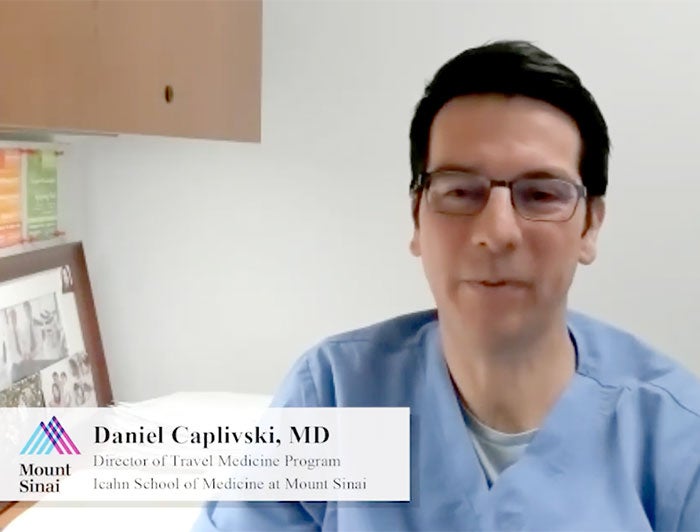 Photo Credit: Mount Sinai Health System
As of early December, the COVID-19 omicron variant had spread to 19 U.S. states and more than 50 countries. New York is among six states that account for the majority of the nation's increase in hospitalizations due to COVID-19. The Centers for Disease Control and Prevention recently reached out to tens of thousands of people who attended an anime convention in mid-November in Manhattan, to better understand the risks of the omicron variant after an attendee tested positive for that variant.
To keep its communities informed, Mount Sinai Health System in New York City is sharing key facts and safety tips about the new variant. In a recent blog, "Mount Sinai Experts Explain What the Omicron Variant Means to You," Judith A. Aberg, M.D., dean of system operations for clinical sciences and chief of the division of infectious diseases, and Bernard Camins, M.D., medical director for infection prevention, urge people who have not been vaccinated or received a booster shot, to do so as soon as possible.
Vaccine makers are "assessing their need to reformulate their vaccines" against the new omicron variant, but that could take months, say Aberg and Camins. The clinicians recommend getting "additional protection now rather than waiting for the potential for better protection later." The blog explains that researchers at Mount Sinai "are continually analyzing the positive SARS-CoV-2 samples for variants, including omicron, to see if these variants are circulating among the local population."
Mount Sinai clinicians also are reminding people to be vigilant during the holidays, keeping gatherings small and outdoors if possible — and being fully vaccinated.
In a YouTube video, Daniel Caplivski, M.D., director of the Icahn School of Medicine Travel Medicine Program at Mount Sinai, discusses specific recommendations to help people protect themselves while traveling in the U.S. or abroad during the holidays.
"This holiday season brings with it a lot more uncertainly as we're facing a new variant in the COVID-19 pandemic," Caplivski said. "Omicron is one that we're still learning a lot about. … We have some preliminary things to go on in terms of making decisions about travel."
Caplivski talks about "multiple layers" to think about when considering travel safety and mitigating risks. He outlines steps to reduce infection, including wearing masks in "close congregate settings." Most of all, he urges people to become fully vaccinated.
"The most important message here is about the vaccine," Caplivski emphasizes. "We're certainly waiting to hear more about their efficacy against the new omicron variant. … The good news is that even if it's not perfect protection, the likelihood is that it's going to give us protection against severe illness and death. And the prior experience with boosters is that they really generate a very robust immune response."
For people who are hesitant about getting the vaccine or booster, "The holiday season is a good motivator to make sure you have that complete [COVID-19 vaccine] series," Caplivski added.
COVID-19 Vaccine Resources