Personal Stories from Baystate Health Employees Encourage COVID-19 Vaccinations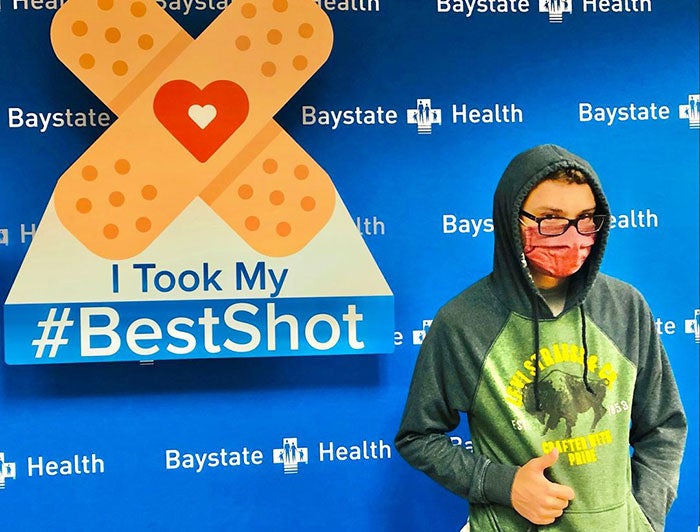 Photo Credit: Baystate Helth
To encourage vaccine confidence, Baystate Health in Springfield, Mass., has created a series of "My Vaccine Story" videos of employees sharing their personal reasons for getting the COVID-19 vaccine. The videos, posted on YouTube as well as on Baystate's dedicated COVID-19 vaccine webpage, address many of the concerns people have about receiving the vaccine.
Amanda Westlake, M.D., an expectant mother and practicing physician at Baystate Mason Square Neighborhood Health Center, emphasizes the vaccine's safety during pregnancy. "As both a physician and a pregnant woman, I am very aware there has been a lot of attention paid to the fact we don't have much data on the safety of the vaccine in pregnant women. However, there is no medical reason to suspect the vaccine would be either unsafe or less effective in pregnant women," Westlake said in one of the video stories.
As of early May, Baystate has administered over 75,000 doses of the vaccine to employees and the general public. The multifaceted campaign to promote vaccine confidence aims to answer questions about vaccine safety and encourages people to "help save the world." Baystate launched a series of virtual town halls in April to educate the community about how the COVID-19 vaccines work, the differences between the vaccines, and answer questions. One town hall meeting was provided in Spanish to address the general vaccine concerns within the local Latino community, while another focused on fertility and pregnancy concerns.
Stories of front-line workers shared on Baystate's Facebook page and vaccine webpage relate personal experiences during the pandemic and how vaccines can help bring the pandemic to an end. "As a black woman, I understand the hesitance of my family and friends getting a vaccine that was rushed and with little information to understand how the vaccine would affect us as people of color," said Lakisha Duncan, GME education coordinator, UMMS-Baystate Medicine–Pediatrics Residency Program, and co-chair, Black Employees Connecting Business, Resource Group. "I have witnessed first-hand the effects of COVID-19 on the body. I have heard terrible stories and have lost friends to this terrible virus. That was enough for me to say that the vaccine is worth getting," Duncan added.
Members of the community, too, can play a role in bolstering vaccine acceptance. Baystate has a "selfie station" in its vaccine center to help spread the word and encourage vaccinations. After receiving a shot, individuals can stop at the station and take a picture or short video to mark the occasion. Once the photos and videos are shared on social media, it encourages others to get their shots.
COVID-19 Vaccine Resources