Three Reasons to Vaccinate Children Against COVID-19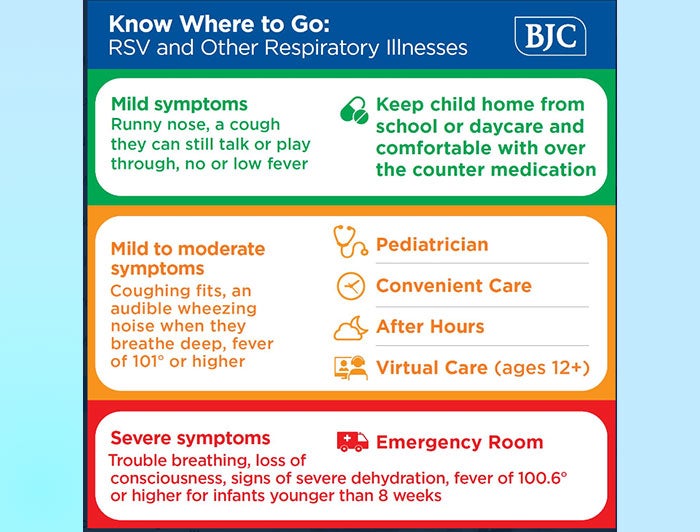 COVID-19, influenza and respiratory syncytial virus (RSV) are highly contagious respiratory infections caused by different viruses, but with similar symptoms. During the fall and winter months — considered the peak of cold and flu season — these infections increase, and it's possible for a person to be infected with multiple viruses at the same time.
St. Louis Children's Hospital in Missouri is making sure parents and caregivers know how to evaluate respiratory illness symptoms when children get sick so they can make the best decisions on where to take their kids — pediatrician's office or convenient care clinic or hospital emergency room — depending on if the symptoms are mild, moderate or severe.
Clinicians at St. Louis Children's Hospital also are helping parents and caregivers make informed decisions about vaccinating children against COVID-19. These experts are sharing information, answering questions and addressing common concerns via videos, blogs and social media posts.
When COVID-19 vaccines and boosters were approved for children as young as 6 months, Jason Newland, M.D., a pediatric infectious diseases specialist at St. Louis Children's Hospital, discussed common concerns about the COVID-19 vaccine and its side effects in a "Meet Dad Doc" article on the hospital's website. He also described the safety measures in place during the vaccines' approval process.
Newland explained that both the Pfizer and Moderna vaccine trials included more than 4,000 children. "The vaccines were found to be extremely safe and very effective — even during the omicron surge — providing 95% to 100% effectiveness against suffering from a severe case of COVID-19," he noted.
In a video message, Newland emphasized that the reason to vaccinate young children "comes down to three things":
There have been more than 400 deaths due to COVID-19 in children under age 4, and vaccines protect children and help prevent fatalities.
Vaccines continue to be effective against severe disease that puts children in the hospital.
Having another person in the family vaccinated against COVID-19 gives additional protection to people in high-risk groups, including grandparents and loved ones who are living with cancer, have a compromised immune system, or other medical condiction.
Visit the St. Louis Children's Hospital/BJC HealthCare COVID-19 resource page.
COVID-19 Vaccine Resources
Resources on the Role of Hospitals