A COVID-19 Vaccine Denier Urges Others to Get the Shot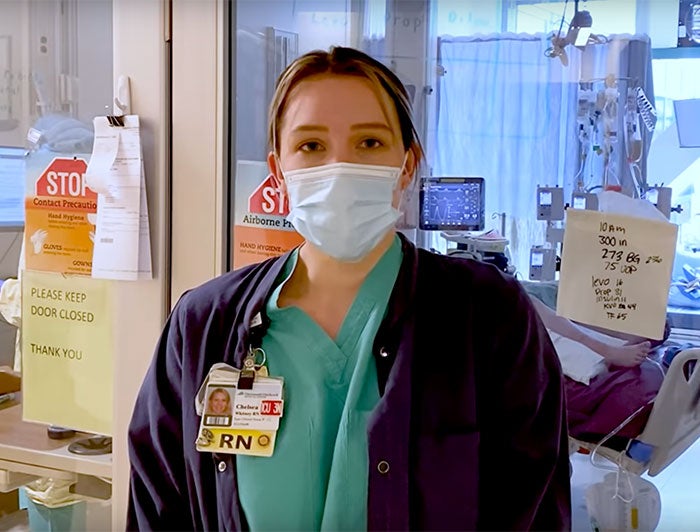 Across demographics, unvaccinated people are more likely to get COVID-19 and are more vulnerable to serious illness from the highly contagious virus. According to the Centers for Disease Control and Prevention, unvaccinated people are not only twice as likely to get COVID-19 but also three times more likely to be hospitalized. And yet many people remain unvaccinated.
Mark McEnnis was a COVID-19 vaccine skeptic until it nearly took his life. "I really don't believe anything I hear and about half of what I see, so I was against getting the vaccine," McEnnis said. He was unvaccinated against COVID-19 and had no prior health issues when he contracted the delta variant in August 2021. When first diagnosed, he didn't fear the virus. He thought he'd need a few days of rest and then be back at work and play. But that's not what happened.
With a high fever and labored breathing, McEnnis was admitted to a hospital in Nashua, N.H. After a week of care, his condition worsened and he was transported Dartmouth Hitchcock Medical Center in Lebanon, N.H. About two months later, McEnnis suffered multiple infections and his family was preparing to say good-bye.
According to Donald J. Perreault, a nurse practitioner at DHMC, this period of the pandemic was one of the darkest times the hospital had ever experienced. "There were people dying left and right," he said.
McEnnis recovered from the virus. He was deeply grateful to the staff at DHMC for saving his life.
"To see a guy like Mark with a family like his pull through the absolute rock bottom that this disease can present with, and not result in death, was a real rallying point for everybody in the MICU," added Perreault.
Since then, McEnnis has received the COVID-19 vaccine and is sharing his story to urge others to get vaccinated and boosted. "I know in my personal experience that probably 50 or 60 people that were against the vaccines immediately went out and got vaccinated, because of me," McEnnis said. "I would just say get it, because the alternative might be the end of it."
Read McEnnis' full treatment and recovery story here.
COVID-19 Vaccine Resources
Resources on the Role of Hospitals