Combat the Rising Risks of Respiratory Viruses by Getting Kids Vaccinated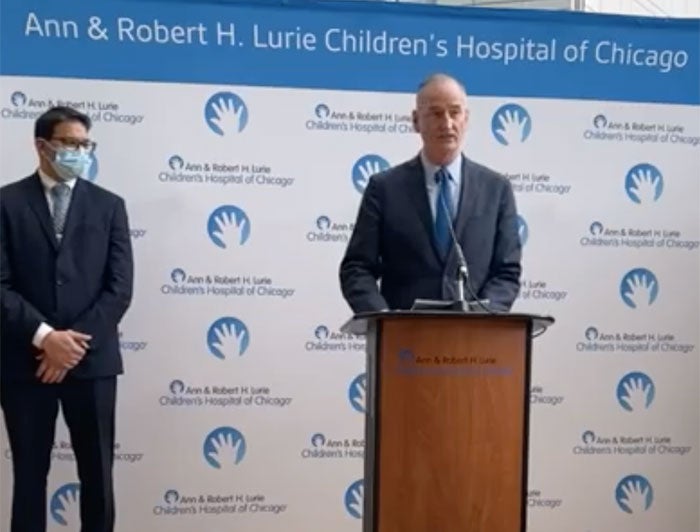 Getting children vaccinated against COVID-19 could help ease the strain on pediatric hospitals, which have been filling up as a variety of respiratory viruses spread, including new strains of COVID-19, the flu and respiratory syncytial virus (RSV).
Fewer than 1 in 4 pediatric hospital beds is available nationwide, according to data from the U.S. Department of Health and Human Services. The good news is that families can help curb the rate of pediatric hospitalizations by at least 38,000 cases if COVID-19 booster coverage among children reaches 50% to 60% — which is the same rate children were vaccinated against the flu last year. If COVID-19 booster coverage reaches 80% among school-age children, more than 50,000 hospitalizations could be avoided
Bill Muller, M.D., attending physician, infectious diseases, at Lurie Children's Hospital in Chicago talks about growing risks of COVID-19 among kids as we approach the holidays and children are spending more time indoors and at large gatherings. In an interview with Fox 32 News in Chicago, Muller said, "We're starting to get into the season where people are spending much more time indoors, and there's a lot more circulation of respiratory viruses. Children are in school, and now that masking requirements are in some cases completely absent and in some cases just relaxed, there's going to be more opportunities for the virus to circulate. So I think it makes sense to get vaccinated as soon as you can to get protection through the winter."
Muller hosted a video series for Contemporary Pediatrics on the implications of the latest shifts in the COVID-19 vaccine and how getting vaccinated offers children protection from the virus and gives parents peace of mind. He discusses how children may respond differently to the COVID-19 vaccine compared to adults, addressing vaccine hesitancy and co-administration of vaccines for children under 5 years old.
To learn more, visit https://www.luriechildrens.org/en/blog/faq-covid-19-vaccine-for-kids-under-5/.
COVID-19 Vaccine Resources
Resources on the Role of Hospitals