Tackling COVID-19 and the Tridemic with 'All the Tools in the Toolbox'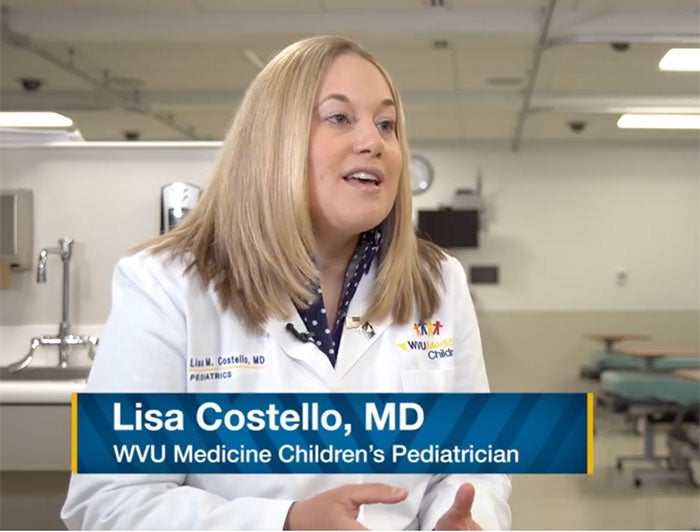 You've read the headlines: Flu, COVID-19 and RSV are respiratory viruses that have been overwhelming health systems across the country. Some experts have suggested that RSV—respiratory syncytial virus—hit children earlier and with more devastating effects because of an "immunity debt" or "immunity gap" caused by several years of social distancing and COVID-19 precautions. And that COVID-19 is to blame for the early arrival and more devastating effects of the flu and RSV.
Last November, WVU Medicine Children's had a waitlist of more than 20 patients who needed a hospital bed. Other children's hospitals in West Virginia and the region were facing similar situations. Among the state's larger, regional pediatric centers or children's hospitals, 91% of beds were occupied and two-thirds were at 90% capacity or higher.
As the respiratory illnesses spread, experts at WVU Medicine Children's Hospital began to share vital information addressing the "tridemic," to help keep kids safe, avoid hospitalizations and lessen the burden on the health system.
Lisa Costello, M.D., assistant professor of pediatrics at West Virginia University and pediatric hospitalist at WVU Medicine Children's Hospital, encouraged people to use "all the tools in your toolbox, whether that's flu, COVID or other vaccine-preventable disease." In addition to getting vaccinated against COVID-19 and the flu, Costello advised families to wash their hands frequently and stay home if feeling ill.
"I have a soon-to-be 9-month-old," Costello said. "I have been doing all that I can to protect her. As a new mom, it certainly causes that increased worry."
According to the American Academy of Pediatrics, more than 15 million children age 6 months through 4 years and 17.5 million children age 5 through 11 have yet to receive their first COVID-19 vaccine dose as of January 2023.
WVU Medicine Children's Hospital offers a robust resource hub on infectious diseases affecting children, including COVID-19 and RSV. Find a wealth of information and resources here.
COVID-19 Vaccine Resources
Resources on the Role of Hospitals