Rural Hospital Bolsters COVID-19 Vaccination Numbers by Building Public Trust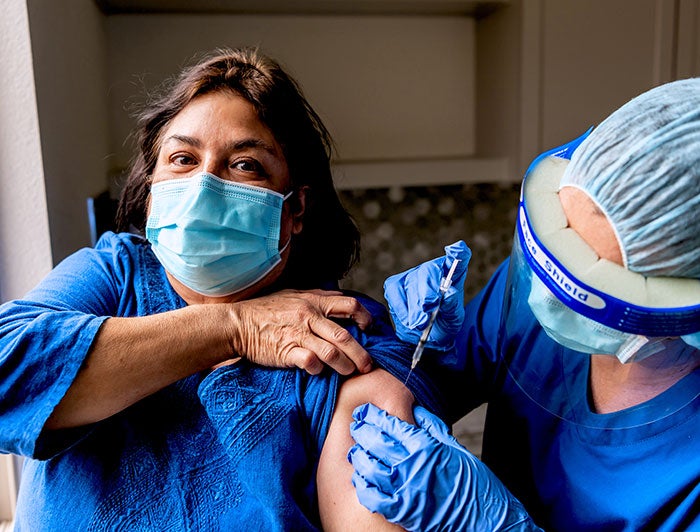 The 10-bed Guadalupe County Hospital stands just off Route 66 in Santa Rosa, New Mexico. The shiny, clean lines of this rural facility, opened in 2011, may seem calm now, but that appearance belies what was a difficult year for most hospitals, fighting the COVID-19 pandemic. The small hospital is a beacon of hope in the Sunbelt region, which has had trouble slowing the novel coronavirus.
Serving a community that trends heavily toward an older population of Hispanics and Latinos, Guadalupe County Hospital is working to fulfill its promise of being a "game changer," as administrator Christina Campos puts it. While new COVID-19 cases have dropped since peaking in December 2020, the county saw spikes in new cases in 2021 after periods when social gatherings were common, such as Cinco de Mayo. That's tough news for an area with a 14.5% poverty rate and a median household income just over $24,000. And yet the county has reported only 13 deaths for a population hovering around 4,000 residents.
What's making the difference in New Mexico when many other Sunbelt states are having trouble containing the virus is trust, Campos said. People in our community "trust us to take good care of them, and we really pushed the vaccines," she told NPR. The "us" includes public health organizations and local government, which are generally seen as helpful. About 40% of New Mexicans are on Medicaid, according to U.S. Census data, and public health plays a big role in people's lives. New Mexico pivoted quickly to testing, accurate messaging and prioritizing outreach to vulnerable populations.
The numbers speak for themselves. In addition to the low rate of fatalities associated with COVID-19, Guadalupe County now has a first-jab vaccination rate over 70%, and full vaccination for people over 16 stands at 66.3%. Guadalupe County Hospital is the only place to receive the vaccine in the area, but as an 800-attendee vaccine event earlier this year proved, public buy-in is huge. The hospital is ranked as one of the top 20 rural community hospitals for three years running by the National Rural Health Association.
COVID-19 Vaccine Resources