Rural Hospital Shares COVID-19 Prevention Checklist for Holiday Gatherings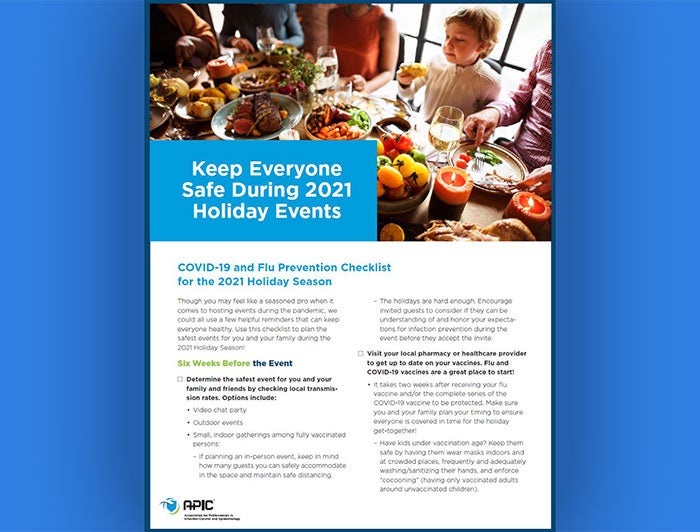 Photo Credit: APIC
The 2021 holiday season, from Thanksgiving on, is likely to look different than the 2020 season. Now that nearly 60% of Americans are fully vaccinated — with higher percentages in many states — more people are planning to gather with families and friends for holiday celebrations. The Centers for Disease Control and Prevention reports that COVID-19 cases, hospitalizations and deaths are decreasing slightly in most parts of the U.S., but CDC officials still caution people to take precautions to stay safe.
Houlton Regional Hospital, a 25-bed critical access hospital in Maine, shared a "COVID-19 and Flu Prevention Checklist for the 2021 Holiday Season." Developed by the Association for Professionals in Infection Control and Epidemiology, the checklist offers simple steps for planning a safe holiday gathering.
Here are some of the recommendations.
Six weeks before the event:
Determine the safest event for family and friends by checking local COVID-19 transmission rates. Options include an outdoor event; small, indoor gathering among fully vaccinated persons; or video chat party.
Remind guests there's still time to get their COVID-19 and/or flu shot, if they're not vaccinated yet.
Two weeks before the event:
Ask invited guests to limit their exposures to others not attending the event as best they can, including practicing social distancing and wearing masks in public spaces outside the home, regardless of local mandates.
One week before the event:
Check in with all guests and ask how everyone is feeling.
If anyone has symptoms or high-risk exposures, find a testing site to ensure results can be known before the event.
Day of the event:
Send an email or text before guests arrive, to make sure no one arrives with COVID-19 symptoms. Be specific about the type of symptoms they should screen for; people can use the CDC's Coronavirus Self-Checker.
Make sure those who choose to wear a mask feel comfortable by wearing a mask yourself.
Have plenty of soap, hand sanitizer and individual towels available for handwashing.
Ensure you have fresh airflow in and out of your house or apartment, and if the weather is nice, open a few windows.
Encourage guests to label their glass or use some other identifier.
If you're being invited to an event:
Decline the invitation if you have COVID-19 or flu symptoms, had had a high-risk exposure or feel uncomfortable attending.
Be honest and explain your concerns about COVID-19 risks, letting the host know you would still like to see them, either virtually, outdoors or in a smaller group.
Most of all, be thankful and show gratitude to hosts and guests … and enjoy celebrating with family and friends.
COVID-19 Vaccine Resources