Rush University Medical Center Taps Faith Leaders to Build Vaccine Confidence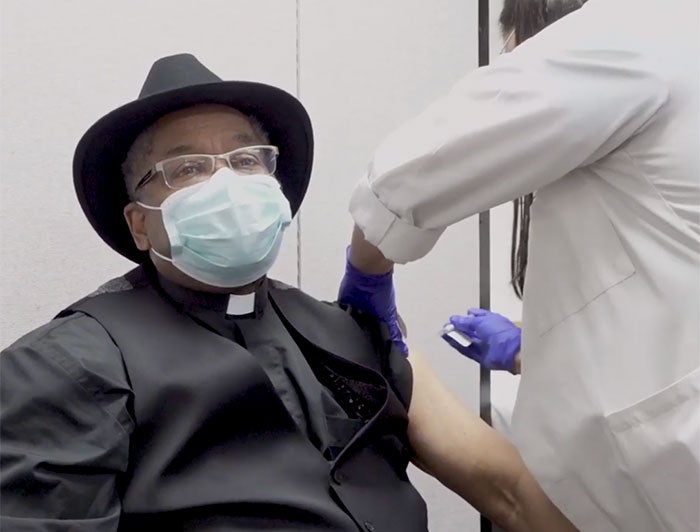 Photo Credit: Rush University Medical Center
To help foster confidence and trust in the vaccine, Rush University Medical Center partnered with the Chicago Department of Public Health to vaccinate leaders from local churches and community groups at a special event. The participants were willing to put aside their concerns and lead by example as they received their shots in front of hundreds of residents.
"While the concerns about the vaccine are not surprising given the history of Black and brown mistreatment — including by some in health care — in the name of medical science, it's essential that we reach all communities in the effort to achieve herd immunity," said David Ansell, M.D., senior vice president for community health equity at the medical center and associate provost for community affairs, Rush University, in a story on the Rush website.
Approximately 100 people from across the community gathered — while practicing social distancing — at the Rush professional office building to demonstrate confidence in the vaccine and encourage others to get vaccinated. The multidenominational effort included faith leaders from across many religions and community leaders representing a variety of local social welfare organizations.
"Widespread vaccination represents faith and hope that we can turn the corner from this pandemic soon," said Rev. Marshall Hatch of the Leaders Network and senior pastor of New Mount Pilgrim Missionary Baptist Church in Chicago. "As clergy step forward to be vaccinated … we demonstrate that faith leaders are hope leaders as well."
Faith leaders kicked off the event with prayer and expressed the importance of getting vaccinated while demonstrating mutual respect and understanding among people of different backgrounds. All congregational leaders received educational materials on COVID-19 myths versus reality to take back to their respective congregations.
Rush University Medical Center offers an online COVID-19 vaccine information hub, where people can go to find the latest vaccine distribution updates, learn how vaccination works, address safety concerns and schedule vaccine appointments. It features a COVID-19 Vaccines by the Numbers section with stats on efficacy, testing and the growing population of people getting the shots.
COVID-19 Vaccine Resources