Rush University Medical Center Vaccinates Community Hot Spots Against COVID-19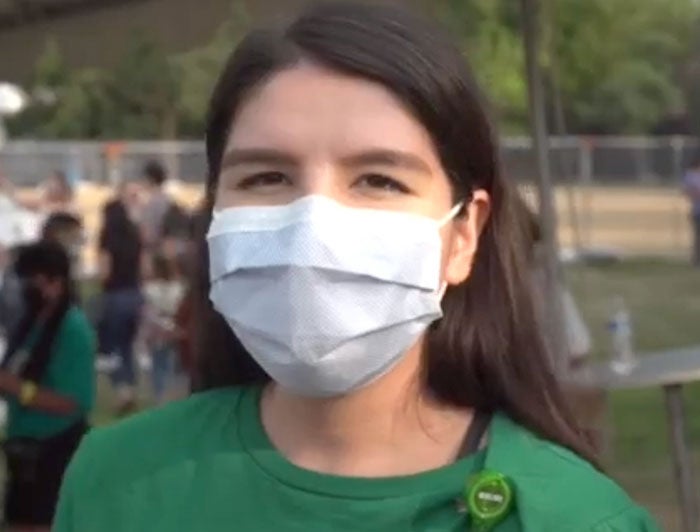 Photos courtesy of Rush University Medical Center
Rush University Medical Center is a national leader in patient care, education, research and community partnerships in the Chicago metropolitan area. In 2016, the health system called out health inequities as the most pressing health need among the 10 West Side communities it serves. In just six miles — from the Chicago Loop to the West Garfield Park neighborhood — life expectancy drops 16 years. Unsurprisingly, these gaps mostly affect brown and Black populations that have limited access to care and preventive services.
At the beginning of the COVID-19 pandemic, Rush launched a community testing team as an emergency response to outbreaks in homeless shelters. This team, in partnership with the Chicago Department of Public Health and University of Illinois Health, has continued to test in congregate settings such as homeless shelters and long-term care facilities throughout the pandemic. The team begain vaccinating in vulnerable communities in February 2021, starting with homebound older adults and then in other high-risk settings such as buildings for older adults.
As COVID-19 cases began to rise again in the summer of 2021, Rush partnered with the Chicago Department of Public Health and Esperanza Health Centers to accelerate testing efforts in communities that need it most. Named Connect Chicago, the initiative addresses COVID-19 testing needs in underserved communities with high positivity rates.
Alma Blancarte Mora, a registered nurse at the Rush University College of Nursing and community health nurse leader, grew up in one of Chicago's neighborhoods that was hit hard by the pandemic and has low vaccination rates. She joined Rush's large cross-departmental COVID-19 task force to help stop outbreaks in congregate settings and other vulnerable spots, such as living facilities for older adults, jails and homeless shelters.
According to Blancarte Mora, "Connect Chicago is an opportunity for Rush to build relationships in the South, West and Southwest communities of Chicago. The community testing site is meeting patients where they are. COVID-19 isn't going to last forever, but we hope the relationships we build through community outreach do."
The Approach
Aligning with its commitment to health equity, Rush developed a COVID-19 vaccination plan to get shots into arms, with special emphasis on communities in need. Rush partnered with community leaders, hosting events with faith leaders and setting up a vaccine clinic in the Austin neighborhood that administered over 7,500 vaccinations in March and April of 2020.
The Rush campus vaccine clinic was open to the public and administered over 145,000 vaccines. The community team began providing vaccinations for homebound older adults in February 2021, through centers for older adults in April. In July 2021, Blancarte Mora launched the Rush Community Vaccination (RCV) team.
The RCV team implemented the following strategies and actions to boost vaccination outcomes:
Continued focus on testing. The rollout of COVID-19 vaccines did not reduce the need for testing and contact tracing. Subsequently, Connect Chicago expanded community-based COVID-19 testing using three pillars of access: the static site at Rush University Medical Center; at-home testing kits, which can be received by mail and dropped at any FedEx location; and two community locations with weekend availability and a drive-thru vaccination option.
Community-driven data. As Blancarte Mora states, "It is important to ask the uncomfortable questions." When it comes to the communities served by Rush, she knew it was important to get the facts about how people viewed the medical system, COVID-19 vaccine and other variables that affect vaccination rates. This may seem secondary to clinical work, but it is the underlying information that guided her input on RCV's direction.
Four zip codes in Chicago have the highest rates of COVID-19 infection. Blancarte Mora herself was born in one of the neighborhoods — Little Village or "La Villita" — and went to high school nearby. Her family lives in another one of the COVID-19 hot spots. As she explains, some can choose to stay away, but many are tied to their geography through life, work and family. She was one of the first health care workers to receive a Pfizer dose when vaccinations began.
Blancarte Mora surveyed 103 residents in those hot spots, using 17 questions to gauge opinions and attitudes about the COVID-19 vaccine. Fully recognizing these results are specific to that geography, she pointed out they still echo much of what has been reported across the country and in major urban areas. "These results show almost universal distrust of the government's goal to protect them or their community, wariness about receiving the vaccine and an urgent need for more information," Blancarte Mora explained.
For example, over 65% of those surveyed felt like they were missing important information about the vaccine, and nearly 80% wanted to know more before making a decision to get vaccinated. Less than 12% felt positive that the government protected their community, and most respondents indicated a strong preference to receive COVID-19 and vaccine information from community members and health care workers rather than government officials.
People, not quotas. While a mass vaccination program is a numbers-driven endeavor, Blancarte Mora said the overall strategy should focus on putting individuals front and center. For example, during a testing visit through Connect Chicago, a registered nurse asks clients if they have a primary care provider or need to be connected to other health care services. Those in need can be connected to care at the Rush University Medical Center or Esperanza Health Centers.
"The health care system does not work equally for everyone," said Blancarte Mora. "We have to validate our patients' feelings, acknowledge past mistakes and tell them about what we are doing." Almost all of the survey respondents had specific concerns about vaccine side effects, manufacturers, manufacturing/research processes, timing, cost and effectiveness. Blancarte Mora had heard Black residents express fears of being treated like an experiment by receiving the vaccine, citing the infamous Tuskegee study. Some people in the Latino community fear that vaccination status will be cross-referenced with citizenship, which could then be used to find, track or even deport individuals.
Blancarte Mora emphasized that the key is adjusting focus and expectations and treating the whole person. For example, if someone visiting a site is struggling to pay rent or dealing with food insecurity, they can receive actionable information through the Connect Chicago program. When teams connect with local leaders, residents and business owners, it reinforces Rush as a trusted resource within the community — one that will still be there when the pandemic subsides. As Blancarte Mora put it, "We are having great conversations and getting to know the community. That is where we want to be."
Key Partnerships
Partnerships drive the Connect Chicago and RCV teams. RCV operates in several neighborhoods: Pilsen, in partnership with Healthy Hood Chicago; Little Village with Enlace; and West and East Garfield Park at Orr Academy High School and the Marillac Social Center. Blancarte Mora calls these "truly great partnerships that connect health care with city leadership and overall make everyone more aware."
The approach to these partnerships is just as important as the partnership itself. Many community-based organizations are stretched thin and worry that they are unable to provide a good vaccination experience, said Blancarte Mora. It's important that the relationship does not feel like a burden. Space, tables, chairs, volunteers — all of the logistical concerns are hashed out without restricting the overall effort or becoming a deterrent. Values also must align. For example, as Blancarte Mora explained, if an organization has to meet specific allocation requirements, RCV will not be able to partner with it because quotas violate their mission.
Staying nimble. Blancarte Mora has refined the model based on trial and error and community feedback. For example, the RCV team was initially focused on pop-up events, but the team learned those events created a stressful experience for residents. People expressed feeling pressure to make a quick decision about getting vaccinated, which could in turn lead to more mistrust — backfiring on the whole purpose of the operation. Others worried how they could get their second COVID-19 vaccine dose, or experienced anxiety thinking they "lost their chance" if they did not get vaccinated in the moment.
Materials needed to be translated into Spanish, and Spanish-speaking nurses had to be on hand to address concerns. Some events where the RCV team was present had alcohol, such as Pilsen's annual Michelada Festival. This gave rise to questions of consent, and some expressed fears over alcohol-vaccine interaction. When these issues arose, the RCV team had to be able to make adjustments on the fly while remaining true to its mission.
Results
The Rush community teams' efforts have led to over 1,700 vaccinations in the community since February 2021.
More than 145,000 people have been vaccinated at Rush University Medical Center.
Over 7,500 vaccinations were given in Rush's Austin vaccine clinic in March and April 2021.
Rush community teams have completed over 18,000 COVID-19 tests in community settings.
The RCV team has created and strengthened the relationships between Rush, community-based organizations and residents living in marginalized neighborhoods.
The RCV team's work represents dreams for the future. The team wants to teach community health centers, schools and full-service clinics how to use Rush's processes and procedures to operate their own COVID-19 vaccine clinics independently.
Lessons Learned
Blancarte Mora said she has seen firsthand the impact of messaging and social media on influencing behavior. This is an area where she thinks health care is a little behind on its presence. She envisions the RCV teams expanding their reach in the digital realm, where misinformation can quickly go viral. Social media that avoids medical jargon and provides quality information in a simplified manner for people to understand — this can be the difference in someone making a lifesaving choice. She talked about the domino effect — how it takes just one person getting vaccinated against COVID-19 to get their friends and family to follow along because of the inherit trust of one another.
Most importantly, though, is learning from the model as it is implemented in the community. Blancarte Mora says it is more efficient and cost-effective to prevent poor health outcomes than to constantly treat them. But bridging the gap on a 16-year difference in life expectancy doesn't happen overnight.
"You never know who you are going to reach. When the RCV program goes away, we want people to know this is the start, not the end, of their relationship with Rush," said Blancarte Mora. "We want to bridge the gap between health care and communities, and we want people to feel that they are taken care of."
COVID-19 Vaccine Resources