Spreading Vaccine Confidence Through Mass Vaccination Clinics, House Calls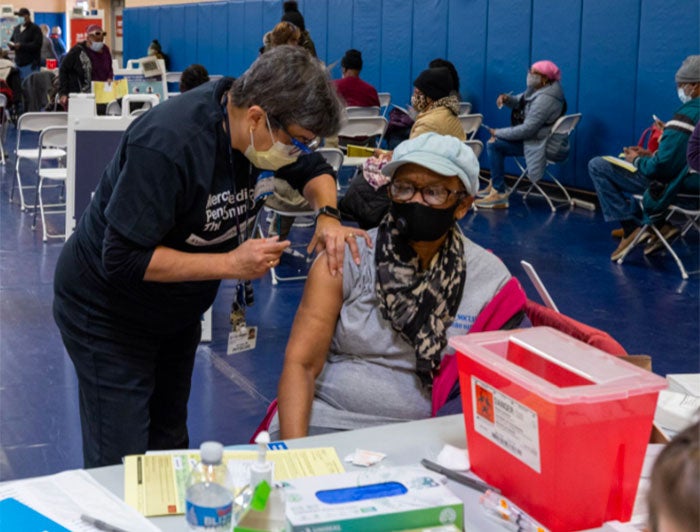 Photo Credit: Penn Medicine
This spring, Penn Medicine, which is part of the University of Pennsylvania Health System, and Mercy Catholic Medical Center are joining forces with a coalition of religious and community leaders from Southwest Philadelphia to host a series of mass COVID-19 vaccination clinics at churches and community centers across the region they serve.
"We want to get COVID-19 vaccines to especially hard-hit areas of our city to ensure protection for the residents who need it most," said P.J. Brennan, M.D., chief medical officer of the University of Pennsylvania Health System, in an article in Penn Medicine News. "By partnering with West Philadelphia faith leaders whose organizations have such strong foundations in the neighborhoods they serve, we hope to join forces to build trust and provide resources to keep as many people as possible safe from the virus."
"We are proud to partner with Penn Medicine and the local faith community to bring vaccination opportunities directly to our West Philadelphia neighbors," said Chris Cullom, president of Mercy Catholic Medical Center. "We at Mercy Catholic Medical Center are committed to serving our communities and instilling vaccine confidence in our neighborhoods. It is our mission to serve as a healing presence in this community, and we are thrilled to collaborate with local faith leaders and Penn to work toward this goal."
Each mass vaccination clinic is expected to administer at least 500 shots to residents who register in advance via a Penn Medicine text-based platform or phone call. Participating religious organizations are providing information about the vaccination clinics on their respective websites and by visiting the homes of congregation members who are at high risk due to an underlying medical condition.
Penn Medicine played a critical role in the development of the Pfizer and Moderna vaccines. Drew Weissman, M.D., an infectious disease expert, and other Penn Medicine researchers helped create the messenger RNA technology for the vaccines. It's an approach that uses genetic material to trigger an immune response.
Weissman has been hosting virtual discussions highlighting the science behind the vaccines to help reassure the public that both are safe and effective — and rely on more than a decade of laboratory research on synthetic mRNA. Learn more about Penn Medicine's contributions to the development of the vaccines and its rollout plans.
COVID-19 Vaccine Resources