Partnerships Help CentraCare Vaccinate Latino People by Eliminating Language Barriers, Fear of Immigration Status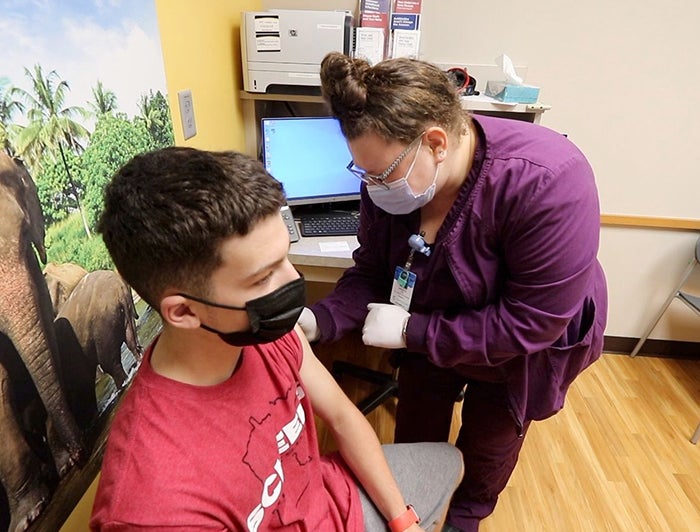 Photo Credit: CentraCare
With coronavirus cases accelerating again throughout the U.S., CentraCare, a health system based in St. Cloud, Minnesota, continues working on multiple fronts to urge the unvaccinated to get their COVID-19 shots to protect themselves and others.
One key strategy for CentraCare is partnering with community organizations to reach people who still haven't received the COVID-19 vaccine. An excellent example is its partnership with Fe y Justicia, a faith-based organization dedicated to providing support, kindness and compassion to Latino communities across central Minnesota. The partners have developed and deployed mobile vaccination clinics, which are proving to be highly effective among people facing transportation issues and other barriers. These mobile clinics are advertised on Facebook Live and by volunteers walking door to door with flyers. Latino communities in the state have had lower COVID-19 vaccination rates than other groups. And reaching this group is particularly important since Latino people who are diagnosed with the coronavirus are admitted to intensive care units at higher rates than the overall population.
People working at CentraCare's and Fe y Justicia's mobile, pop-up vaccination clinics speak Spanish and can address concerns of community members. Community members feel comfortable asking questions and also getting a COVID-19 shot, without fear of being asked about their immigration status.
"St. Cloud is a place [with] many immigrants, but there is not many things for the immigrants," Ma Elena Gutiérrez, Fe y Justicia, told the St. Cloud Times. "With COVID we found out our people were left behind. They were working very hard, they are essential workers. But they didn't have what they need. They have to work while they were sick because there was no [other] option. They don't have the resources to keep going."
Gutiérrez, added, "We are not asking for their identification [at the vaccination clinics], just their name and their birthday. They feel comfortable because they trust Fe y Justicia. We have been working really hard, and they know we do the work because we want to help the community."
The effectiveness of this type of community partnership and outreach is backed by data highlighted in a recent Kaiser Family Foundation COVID-19 Vaccine Monitor. According to the report, one-third of unvaccinated Hispanic adults say they would be "more likely to get vaccinated if a mobile vaccine clinic came to their neighborhood."
CentraCare'svaccination efforts extend to its own workforce. In mid-August 2021, the health system announced it will require all health care employees, including remote workers, contracted employees, volunteers and students, to be vaccinated, unless they register for a medical or religious exemption. Employees must have completed their final dose of a COVID-19 vaccine by Dec. 15. At the time, the CentraCare reported that more than 92% of its physicians and 94% of advance practice providers already had been vaccinated.
In addition, CentraCare leaders, like those at many health care organizations, are recording video messages to urge those in the community who have not yet been vaccinated to do so — to help slow the spread of the highly transmissible delta variant as hospitals once again fill to capacity.
In a recent video posted on the health system's Facebook page, Joy Plamann, executive vice president at CentraCare and president of St. Cloud Hospital, said, "Hospitals across the state and nation are filling up once again, and it's happening here too. We can slow this thing down right now. I'm asking as a leader of CentraCare and a member of the central Minnesota community, please, if you haven't done so already, get vaccinated and tell your loved ones to get vaccinated too. … Let's come together again as a community and as people who care for each other. Please get your COVID-19 vaccine today. We need your help."
COVID-19 Vaccine Resources