Sutter Health and Community Partners Encourage COVID-19 Vaccination Among Latinos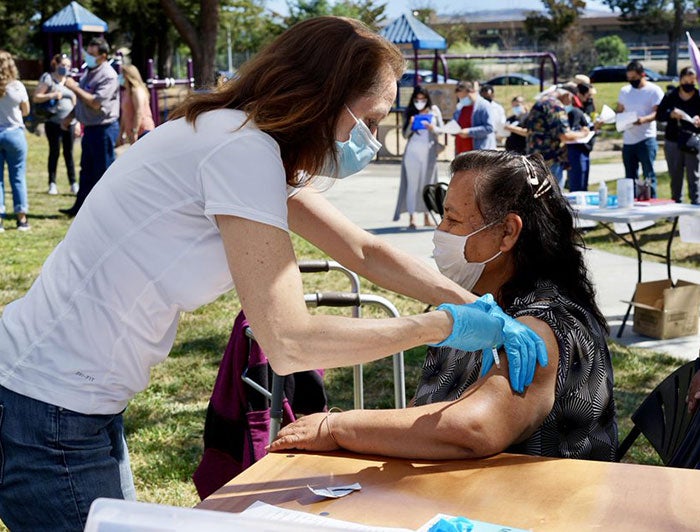 Photo Credit: Sutter Health
To increase its outreach to hard-to-reach populations and most effectively get through to vaccine-hesitant populations, Sutter Health is partnering with community organizations across Northern California to encourage COVID-19 vaccination and get more shots in arms.
For example, in Santa Rosa, Calif., the Latino population has struggled with high rates of COVID-19 and residents who are hesitant to get the vaccine. At a pop-up clinic in May targeting individuals in the 95407 zip code — one of the top three zip codes in Sonoma County with the highest number of COVID-19 cases among Latinos — Sutter Health partnered with Raizes Collective, a local nonprofit dedicated to helping Latinos in the Santa Rosa community to get jabs in arms.
To help encourage the Latino population to come out to get the vaccine, the organizations hosting the event created a welcoming and fun atmosphere for the vaccinations given at Martin Luther King Jr. Park, where they offered live music and an art exhibit entitled "La Vacuna Cura," meaning "the vaccine cures."
Isabel Lopez, Raizes Collective executive director, said that many Latinos harbor a distrust of government programs because of "decades of systemic racism and inequality, as well as recent immigration policies that have led to greater deportations." In turn, outreach requires trusted community messengers within the Latino community, such as Sonoma County artists who served as partners in sharing the importance of getting vaccinated to improve overall health outcomes.
"A key piece to the novel Artist Health Equity COVID campaign is to empower artists from vulnerable communities to be key strategizers and content creators to increase the acceptance of the COVID-19 vaccine all while empowering their own community to have autonomy and make informed decisions to receive the vaccine," said Lopez. "We are grateful to Sutter Health and their team of volunteers who helped make this vaccine clinic possible."
To keep everyone in its communities informed, the health system's COVID-19 vaccine resources webpage features a video that walks people step-by-step through getting the vaccine, has helpful tips for dealing with any side effects after getting a shot and lists answers to frequently asked questions.
COVID-19 Vaccine Resources