Tampa General Hospital Plays a Pivotal Role in Florida's COVID-19 Vaccine Rollout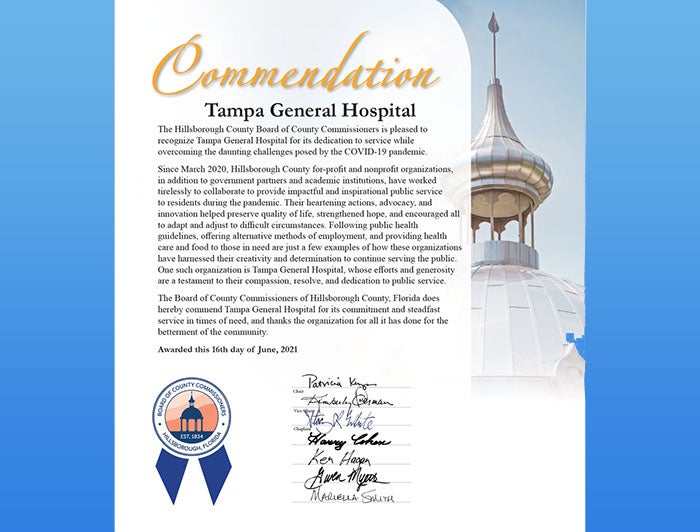 Photo Credit: Tampa General Hospital
Peggy Duggan, M.D., chief medical officer at Tampa General Hospital (TGH), and Patricia Emmanuel, M.D., a pediatric infectious diseases specialist, co-medical director of Women's and Children's Health at TGH and chair of pediatrics at the USF Health Morsani College of Medicine, are grateful to the people who made the decision to get vaccinated against COVID-19. They have seen firsthand the devastating effects coronavirus has had on individuals, families, communities and the nation and continue to do whatever they can to get shots into more arms.
As penned in a Tampa Bay Times op-ed, Duggan and Emmanuel want people to know that "as physicians, we understand how much everyone wants to go back to normal and put COVID behind us: to return to a time when we could physically be together, cheering on Tampa's amazing sports teams, checking out the latest concerts or visiting our beautiful beaches. Believe us, we want the same thing. The good news is that there's a safe and convenient way for each of us to help protect ourselves and our communities: getting the COVID vaccine."
TGH was one of five hospitals chosen to participate in Florida's vaccine distribution pilot program because of the large population of people it serves and its cold-storage capabilities. The pilot program was designed to address the Pfizer vaccine's challenging cold-storage requirements early on in the vaccine rollout phase. The vaccine must be kept extremely cold: minus 70 degrees Celsius, which is colder than the average winter in Antarctica. Pfizer was one of the front-runners in the vaccine race last year.
The first round of Pfizer vaccine doses that arrived at TGH in December 2020 were administered to physicians and staff at greatest risk for exposure to COVID-19 in the workplace. As more doses arrived, the health system began administering shots to health care workers at partnering organizations, including AdventHealth, BayCare, Bayfront Health, HCA Healthcare and Moffitt Cancer Center.
Tampa's ABC Action News (WFTS-TV) ran a special series from TGH covering the vaccine rollout. The broadcast featured an interview with clinical nurse Rafael Martinez, who said after administering the first dose of the vaccine to a colleague, "Everything came to mind, everybody. It was the first responders. It was the scientists. It was the community. How finally we have that final tool that we need to help our community fight this. I call it 'invisible enemy' that nobody sees, and he chooses his targets. And finally, we had the vaccine to help us."
Upon seeing the arrival of the first batch of vaccines, TGH CEO John Couris said he was finally optimistic about the future. "For the first time in a very long time, I felt very hopeful. The vaccine works. It's effective. You have to trust the science. And I just felt hopeful."
Since then, TGH has executed a full-court press to vaccinate communities served by its entire network. A coronavirus resource hub boasts a wealth of information on vaccine eligibility, access, the science behind the vaccines and more.
In another ABC Action News interview, Seetha Lakshmi, M.D., medical director at TGH's new Global Emerging Diseases Institute said, "I would highly, highly recommend getting vaccinated. In fact, it's a privilege, if you consider many of the countries that don't have access to vaccine."
When asked about concerns surrounding the vaccines, Lakshmi added: "I know there are questions around fertility and the long-term effects. And really, if you look at infectious disease, in general, the viruses have a lot more control over your body to cause infertility than any vaccine, ever. Even the American College of Obstetrics and Gynecologists endorses for pregnant women to get the vaccine. For mothers to be out there, please get your vaccine and protect yourself and your child."
Moreover, TGH was the first hospital in Florida to offer the monoclonal antibody treatment that can help reduce hospitalizations and prevent worsening of COVID-19 symptoms. And TGH is currently one of the only hospitals in Florida performing in-house sequencing tests to identify and track COVID-19 variants.
TGH has been honored for its dedication to service during the COVID-19 pandemic by the Hillsborough County Board of County Commissioners. The commissioners recognized that for over a year, TGH stood as "a shining beacon of light during a dark time in the world." Because of the health care workers' courage in the face of uncertainty, families, friends and neighbors throughout the region were given hope when they needed it most.
COVID-19 Vaccine Resources