Three Indiana Health Systems, One Powerful COVID-19 Vaccination Message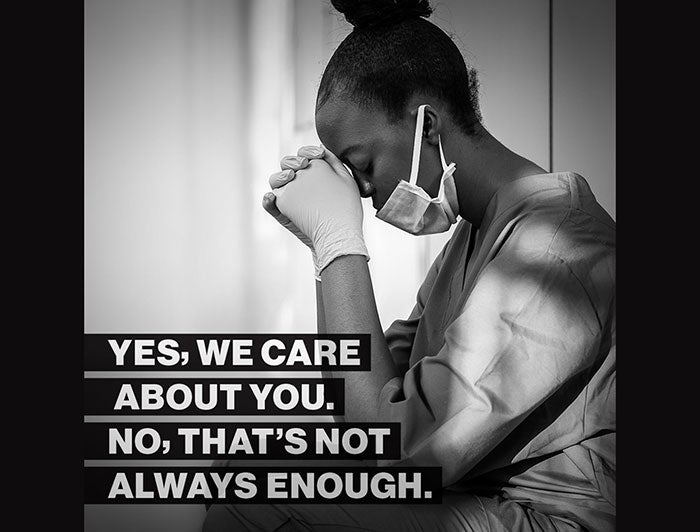 Photo Credit: Indiana University Health
The urgent headline atop a full-page advertisement in the Indianapolis Star said simply: We Can't Do This Alone.
The bold plea was from three leading health systems in Indiana — Community Health Network, Eskenazi Health and Indiana University Health — who joined forces in December 2021 to urge people in their communities to get the COVID-19 vaccine. Just over 53% of Indiana residents are vaccinated; only seven states have a lower vaccination rate.
The three health systems, all based in Indianapolis, are sharing powerful images and messages on social media to let people know "the situation is dire."
The message: "There's nothing we wouldn't do for the health and well-being of our fellow Hoosiers. But sadly, COVID-19 has tested the limits of what health systems can accomplish on their own. And now, almost two years into the pandemic — desire, expertise and modern medicine are simply not enough."
Signed by the health systems' executives, the ad spells out exactly what people can do "before the situation gets even worse": Get vaccinated is number 1, followed by get boosted, get tested and get masked.
The ad concludes: "Our strength is our ability to come together. And it is together, that we will finally see our way out of this."
Each health system has been working in other ways to encourage people to get a COVID-19 vaccine and booster. IU Health teams worked to increase access to COVID-19 vaccines by setting up vaccination sites at community clinics in underserved areas and providing free transportation. The health system makes sure multilingual staff are at those clinics. Its COVID-19 vaccination online resource hub has information that can be translated in several languages, including Spanish and Hakha.
Eskenazi Health is running its own social media campaign, calling out "The time is NOW to get your vaccine". Community Health Network has an extensive COVID-19 vaccine page with FAQs that are regularly updated.
COVID-19 Vaccine Resources