Torrance Memorial and Local Fire Department Ensure Homebound Residents Get Vaccinated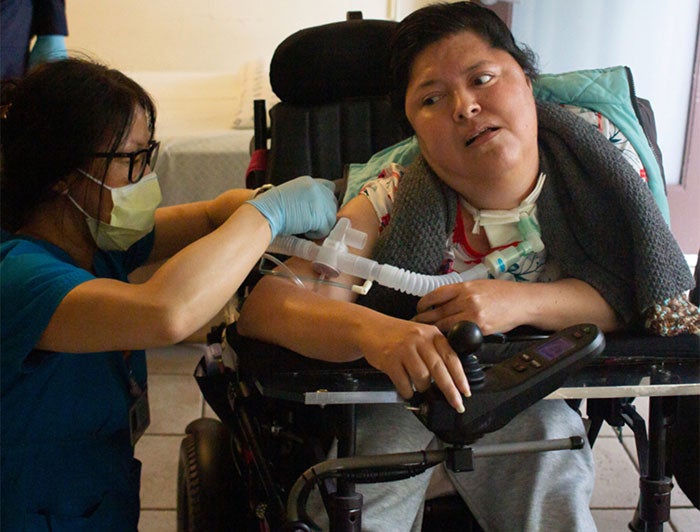 Photo Credit: Torrance Memorial Medical Center
Torrance (Calif.) Memorial Medical Center is working with the local fire and public health departments to break down barriers that prevent people in the community who are homebound from getting the COVID-19 vaccine. People may be unable to leave their house to get the vaccine due to health or mobility issues or both.
Torrance Memorial care teams began planning for homebound vaccinations back in February 2021 and started administering them on a small scale about a month later. Soon after that, the medical center began partnering with the Torrance Fire Department, a collaboration that expanded reach into the community to vaccinate more residents. The California and Los Angeles County public health departments also are involved.
To identify and reach out to people who may need home vaccination, the medical center and fire department use a list provided by the LA County Department of Public Health. Torrance Memorial care teams also have contacted home health organizations and local physicians' offices. The fire department has connected with Meals on Wheels and senior and independent living centers in the community and created a homebound vaccine hotline.
Careful planning goes into days scheduled for homebound vaccination visits. A Torrance Memorial team member reviews a list of people who will receive the vaccine at home, sorts it geographically and maps a route for fire department teams. Typically, two teams are sent to vaccinate six people each. The COVID-19 vaccines are transported in coolers with digital trackers that monitor the temperatures. Vaccination teams are briefed beforehand with instructions, including how to administer the doses to people with special needs, and debriefings are completed afterward.
Through the work of Torrance Memorial, the Torrance Fire Department and other partners, more than 160 homebound people in the community have been vaccinated as of late June.
Mei Tsai, a Torrance Memorial pharmacist who coordinates COVID-19 vaccination for homebound residents and for skilled nursing facilities, told the Daily Breeze, "A big misconception about homebound residents is that they don't need the vaccine because they're already at home. But what they don't consider is that these people haven't been able to see their families, grandkids, friends for more than a year." She added, in a blog on the medical center's website, "I couldn't be prouder to work at Torrance Memorial, which supports keeping the community's most frail residents safe and healthy."
COVID-19 Vaccine Resources