Trinity Health Launches "It Starts Here" COVID-19 Vaccine Campaign
Trinity Health is targeting marketing and communication efforts to encourage COVID-19 vaccine confidence and administer shots to minority populations.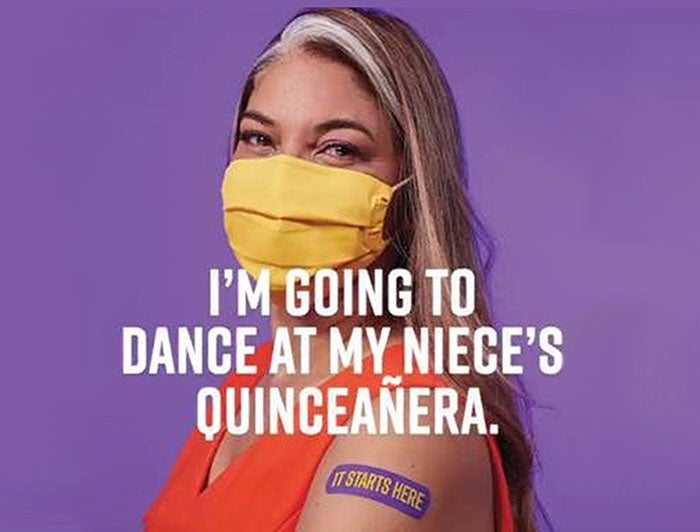 Photos courtesy of Trinity Health
In March 2021, Trinity Health, a large health system based in Livonia, Mich., that serves communities across 22 states, launched the It Starts Here campaign, an educational initiative focused on getting communities of color vaccinated. The campaign included $1.1 million in grant funding to local community-based organizations as part of efforts to reach other vulnerable communities, including older adults, people experiencing homelessness and residents in rural areas. Trinity spent an additional $500,000 on marketing and communication efforts, including running social media and radio advertisements, reaching influencers, and creating digital and physical marketing assets.
The Approach
Trinity Health's campaign goals were threefold: to build trust in COVID-19 vaccines and in the health system's capacities to administer the vaccine; to educate the public and raise awareness; and to make the vaccine more accessible to communities of color.
After identifying the health inequities that exist among communities of color and other vulnerable communities, Trinity kicked off its media campaign in March 2021, after selecting social media influencers to help spread the word that COVID-19 vaccines are safe and effective.
To achieve success in the campaign, Trinity partnered with community and faith-based organizations to best interact with the target populations. Weeks before the media campaign went live, Trinity distributed $1.1 million in community health and well-being grants to support local, community-based organizations, affiliates and projects. That funding helped create excitement around the campaign.
The media campaign included working with more traditional media partners as well as Black and Brown social media influencers with large followings in 14 underserved communities across the country to educate, raise awareness and promote the availability of the COVID-19 vaccine.
The Centers for Disease Control and Prevention reports that Blacks are 1.1 times more likely to be infected by the coronavirus and 2.9 times more likely to be hospitalized, compared to whites. Meanwhile, Hispanics and Latinos have a 1.3 times higher risk for infection and a 3.1 higher hospitalization rate, while Native American communities are at the highest risk. In addition, the CDC reports that of the COVID-19 vaccines distributed during the first month they were available, only 5.4% of Black Americans got the vaccine compared to 60% of white Americans.
"This context, combined with Trinity Health's own data about health care inequity in our ministries' communities, led us to this highly targeted campaign to raise awareness and encourage vaccinations among minority communities — especially communities of color," said Julie Washington, senior vice president, chief marketing, communications and experience officer for Trinity Health.
Results
The program is well underway, and Trinity Health is tracking upstream and downstream metrics for the campaign. Because mass vaccination efforts are unique, Trinity crafted specific definitions of success, including the number of people vaccinated, number of people engaged and number of educational events.
Lessons Learned
Be patient and educate people with tailored messaging for your community. The most common challenge Trinity faced was combating misinformation, skepticism and mistrust in health care providers' intentions. "There are concerns about how — and how fast — the vaccine was created, and we knew that a major part of this campaign would involve unpacking the science in a way that was approachable, understandable and respectful of people's experiences," said Washington.
Know your audience, their needs and their motivations. For Trinity Health, the underlying skepticism and hesitancy contributed to the health system's greatest challenges in getting shots in arms for the target community. That's why the social media influencers served such a crucial purpose in educating people and calming fears.
Be clear and authentic with all your content. "With a health care campaign, you want to demonstrate full transparency, so authenticity becomes critical," said Washington. "To that end, this is not a superficial campaign. We spent a significant amount of time in discussion with Black and Brown colleagues and community members to ensure that our message — and the format — would hit home with our target audience. We were intentional about setting aside any biases that we held and instead looked at the research and data around the specific fear factors that Black and Brown people have regarding vaccines."
Feature stories from real people, including many who look like your target audience and have already been vaccinated. Trinity Health understood the value of making this campaign personal, despite the fact that it was an educational initiative. Washington said Trinity wanted to showcase people's personal "whys" to motivate other individuals to care for their health.
COVID-19 Vaccine Resources