Tufts Medical Center Responds to Rising Demand for Boosters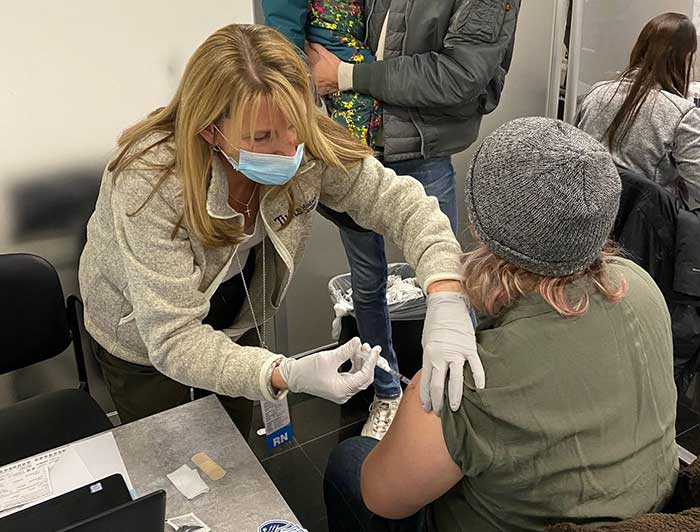 Photo Credit: Tufts Medical Center
In Massachusetts, more than 1.1 million people have received their COVID-19 booster shots. That number is expected to rapidly rise as the omicron variant threatens the U.S. On a single day following Thanksgiving, thousands of people lined up at the Tufts Medical Center vaccine clinic ready to get their boosters.
According to a story by the CBS-TV news affiliate in Boston, Marjorie McAloon, a COVID-19 survivor who was hospitalized for three days, can't fathom another round of treatment against a more dangerous variant than she'd faced before. She was one of hundreds of people who waited in line at the vaccine clinic for a booster shot. "I had gotten COVID a year ago in May, so I need to be up-to-date because I'm older and I don't wanna get sick again," she explained.
Josh Arki of Boston also waited in line for a booster shot. He wants to protect himself and his family against a possible winter surge as people gather for the holidays. Arki explained, "Me and my wife tried to show up before the end of the workday thinking we would miss the line, but we waited about an hour in line. For me it's more about the time frame and the holiday season than anything else, but I'm certainly concerned about the variant [too]."
According to Nicholas Duncan, director of operations and emergency management at Tufts Medical Center, reinfection is real. The delta variant has spread faster than earlier forms of the virus that causes COVID-19. It has been linked to more severe illnesses than previous strains in unvaccinated people.
Omicron is believed to be more infectious than the delta variant, but it is not yet clear how much the new strain will affect the strength of currently available vaccines. Moderna and Pfizer said they will have more data on it soon. The companies maintain that they can adjust their vaccines relatively quickly to combat new variants.
Meantime, the Centers for Disease Control and Prevention has strengthened recommendations on getting a COVID-19 booster shot. The booster vaccines are meant to increase levels of immune responses after the original doses have naturally waned. According to the CDC, a booster tricks the immune system into thinking that it is again seeing a pathogen, so antibody producing cells and other immune cells are recalled into gear.
People who received Pfizer or Moderna immunizations should get the booster six months after their initial series of shots. People who received the Johnson & Johnson vaccine should get a booster two months after their first shot. CDC's recommendations allow for mix-and-match dosing for booster shots.
"The demand is skyrocketing," added Duncan. "People are eager to get boosted."
With 1,000 vaccine sites available across Massachusetts, the state is administering approximately 50,000 booster shots a day. Tufts Medical Center has tripled the number of vaccine booster walk-ins since the start of the holidays and is projecting to give out up to 400 doses a day.
The medical center offers adult vaccine clinics for people ages 12 and older, and pediatric vaccine clinics for kids 5-11 years old. The medical center also is holding vaccine clinics on campus at Tufts University.
For more information, visit https://www.tuftsmedicalcenter.org/vaccineinfo.
COVID-19 Vaccine Resources