West Virginia Health Care Providers Overcome Unusual COVID-19 Vaccine Challenges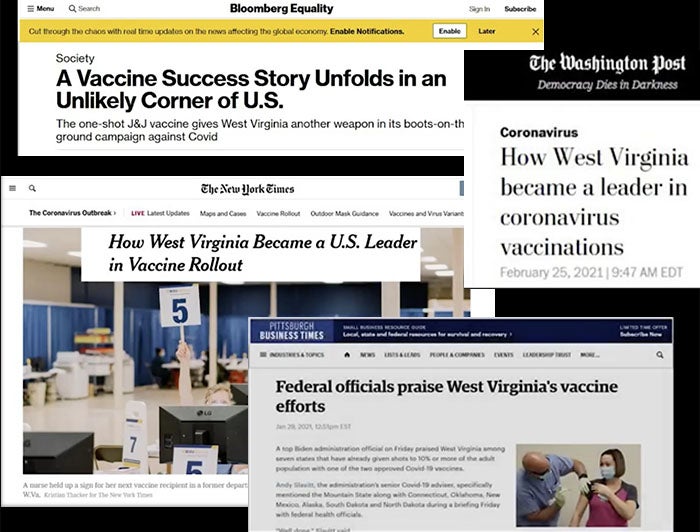 Photo Credit: WVU Medicine
West Virginia, known for its vast acres of forest that cover 78% of its land, is home to fewer than 1.9 million people. The small, rural state ranks third in the nation for the percentage of its population over age 65 and second for the percentage of its population in the 75 to 84 age group.
Moreover, because of the Appalachian state's mountainous terrain, tough country roads and struggling coal industry, the population has experienced high rates of comorbidities, including smoking and chronic conditions that drive its low overall health ranking. These unique elements and more presented unprecedented challenges to vaccinating West Virginians against COVID-19.
At one time, West Virginia ranked as one of the least vaccinated states with the fastest-growing rate of infections in the U.S. These days, it's being heralded as a vaccination success story. As of March 2022, 64% of the state's population had received at least one COVID-19 vaccine dose, and 57% had been fully vaccinated.
West Virginia University Health System, the largest health system in West Virginia with 20 hospitals, five medical institutes and 17 clinics, has deployed three key strategies to getting people vaccinated.
Leadership. Jeremiah Hayanga, M.D., ECMO program director at the WVU Heart and Vascular Institute, was appointed by the U.S. Department of Health and Human Services as a special advisor on the nation's COVID-19 response team because of his background in health care policy and research on the use of artificial intelligence and other advanced technologies in the prevention of an outbreak.
"This is a federal response to what has been an enormous blow to our country's people and economy," Hayanga said in a WVU Medicine press release. "I worry that as the virus begins to fade, so, too, does the seriousness with which people take it, and some may opt out of the vaccine when it is available, which will be a mistake."
Hayanga advocated for vaccine education and access early on in the pandemic, and emphasized the role vaccines play in managing a pandemic.
Education. WVU Medicine made it a top priority to bring community residents accurate information about the evolving pandemic and vaccinations in real time. A robust COVID-19 information hub offers the latest pandemic and vaccine updates, science behind the vaccines, perspectives on safety and efficacy, and vaccine access in a way that is easy to use and understand.
The organization's people, its greatest asset, took to the airwaves to talk about the importance of getting vaccinated and share their personal vaccine stories. In one video, Christopher Goode, M.D., chair of the WVU School of Medicine department of emergency medicine, as well as a son, husband and father, explains why he and his family got the vaccine and urges others to get vaccinated too. He says, "I think you'll find that most people that haven't gotten the vaccine, it's out of fear. I would fear the disease much more than I would fear the vaccine. That's why I got the shot, why my wife got the shot, my mother and my in-laws."
Goode further explains that a huge motivator for getting vaccinated has been the pride shared among the people of West Virginia. He says, "Early on in this vaccine [rollout], our leaders and our citizens did everything right. Now is the time to prove to the other 49 states that West Virginia is a leader. And it's a leader for one simple reason — it cares about its communities, and we care about our future."
Meera Mehta, an infectious diseases expert at WVU Medicine, holds Facebook Live "Tuesday Talks" each week to regularly check in on people and share the latest news and updates about COVID-19 and getting vaccinated. Mehta presents vaccination data, addresses surges and answers questions.
In a special edition of "Tuesday Talks," Mehta was joined by a panel of WVU Medicine experts who covered the COVID-19 virus and vaccines for kids and pregnant women as well as flu shots, and discussed how difficult it is to tell if you have COVID-19, the flu or a cold.
Lisa Costello, M.D., an assistant professor of pediatric general medicine at WVU and expectant mother, appeared in a personal and persuasive video created just for other moms-to-be. Costello answers questions on the safety and efficacy of the COVID-19 vaccine and shares her personal perspective on getting vaccinated while pregnant. The video was created in partnership with the American Hospital Association.
Grassroots efforts. WVU Medicine deployed an aggressive grassroots effort to provide easy access to the COVID-19 vaccines. The health system offered the vaccines at hospitals and medical clinics located throughout its network, including pediatric clinics for all eligible kids. Pop-up clinics were set up on UWV campuses. The health system also mobilized vaccination vans and engaged with local health departments and faith-based organizations with a special focus on vulnerable groups and communities of color.
The National Guard played a key role in the state's response, offering logistical support for the receipt, transport and storage of the vaccines.
Find more information on WVU Medicine's vaccine efforts here.
COVID-19 Vaccine Resources