Wyoming Hospital Urges Community: Help Us Keep Critical Services Open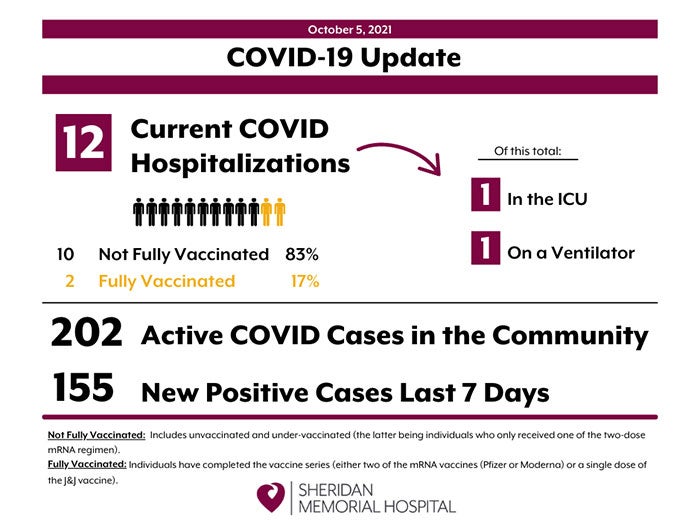 Photo Credit: Sheridan Memorial Hospital
Wyoming has one of the lowest COVID-19 vaccination rates in the U.S. As of early October 2021, 49% of the population was partially vaccinated, according to the Centers for Disease Control and Prevention. Only Idaho (47%) and West Virginia (48%) had lower partial vaccination rates.
As the delta variant spreads and COVID-19 cases climb in Wyoming, the state's hospitals and health care workers are feeling the strain and getting more aggressive with a call to action to local residents to get vaccinated.
"We are asking for your help," begins a recent post from Sheridan Memorial Hospital. "A recent surge in COVID-19 cases is having a major impact on the resources available to care for our community. Please help us ensure critical services remain open and available."
SMH shares regular updates with key statistics across its communications channels, including a robust COVID-19 resource hub. The communications emphasize how the surge in cases amid low vaccination rates in the area is affecting the hospital and stresses that the time to help end this pandemic is now. Visitors to the site will find current number of COVID-19 patients at the hospital, number of patients in the ICU and on a ventilator, and percentages of those patients who are vaccinated and unvaccinated.
SMH also tracks the number of active COVID-19 cases in the community and the number of new positive cases. A separate COVID-19 Vaccine Information webpage makes it easy for community members to make an appointment to get their shot.
Leading by example, 70% of health care professionals at SMH are vaccinated, without mandates or incentives. This vaccination rate is higher than at most hospitals in the state. Unlike hospitals in other states across the country, most Wyoming hospitals are not requiring that employees be vaccinated. In March 2021, SMH posted stories of their health care workers explaining why they got the COVID-19 vaccine.
COVID-19 Vaccine Resources