Vermont Hospitals and Communities Successfully Prioritize COVID-19 Vaccination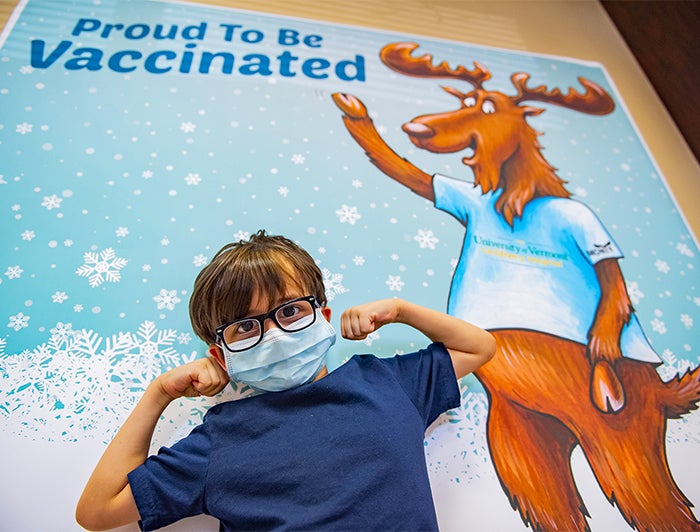 Photo Credit: University of Vermont Health Network
Vermont sits atop all other states with the highest percentage of its population fully vaccinated against COVID-19: As of early February 2022, 80% of Vermont residents have completed vaccination and 64% have received a booster. And although hospitalizations due to COVID-19 are higher this winter than during the peak in winter 2021 — largely attributed to the coronavirus delta and omicron variants — the hospitalization rate in Vermont was the lowest across the United States.
What's driving the high COVID-19 vaccination numbers? Health care leaders point to a "small-town dynamic" of people looking out for their neighbors.
"There is a New England small-town dynamic," said Tim Lahey, M.D., director of clinical ethics at the University of Vermont Medical Center in Burlington, in a recent article in U.S. News & World Report. "It's easy to imagine how your behavior impacts your neighbor and an expectation that we take care of each other."
For Vermonters, an attitude of navigating the challenges of the pandemic — together — pervades communities. Lahey explained that though "all of us are just exhausted … we're exhausted with friends."
Hospitalizations for children with COVID-19 have increased recently, but with 54% of children ages 5–11 vaccinated and 71% of adolescents ages 12–17 vaccinated, hospitals in Vermont haven't felt the strain as much as those in other states.
"I have to remind people that cases don't mean disease, and I think we're seeing that in Vermont," said Rebecca Bell, M.D., pediatric care specialist at University of Vermont Health Network. "We have a lot of cases, but we're not seeing a lot of severe disease and hospitalization."
Bell added," I have not admitted a vaccinated child to the hospital with COVID-19."
In a recent blog on the UVM Health Network website, Bell, along with Lewis First, M.D., chief of pediatrics at UVM Children's Hospital, answered questions about the COVID-19 vaccine for children. The physicians emphasized the safety of the vaccine and importance for children to be vaccinated. "The COVID-19 vaccines are the most closely watched vaccines in the history of vaccines," Bell pointed out.
Bell explained: "Earlier in the pandemic, some were hopeful that the SARS-CoV-2 virus eventually would go away. Unfortunately, that's not the case. The virus is here to stay. Our children will be exposed to this virus over and over again. We want their immune systems to be as prepared as possible. "
Other hospitals across Vermont have worked to communicate to people in their communities the importance of receiving a COVID-19 vaccine and booster.
Vermont's Rutland Regional Medical Center has been working to ensure that everyone in the area has access to the COVID-19 vaccine. The hospital, along with the local NAACP and United Way chapters, has hosted several vaccine clinics geared to Indigenous people, Blacks, people of color and their families. These vaccine clinics — the most recent one held in late January — helped the disparity in vaccination rates between non-Hispanic whites and Blacks drop from 34% in March 2021 to less than 1% in fall 2021.
Southwestern Vermont Medical Center in Bennington has shared messaging on COVID-19 vaccination across its digital and social media channels. In a recent blog "Give Yourself a Boost," Marie George, an infectious disease specialist, explained that "future waves [of COVID-19] are less and less likely to have a major impact in populations that are boosted." In addition to reducing infection rates and, for those who do get infected, keeping cases mild, the "benefits of keeping yourself healthy ripple outward."
Echoing the "small-town dynamic" sentiment shared by Lahey at UVM Health, George added: "When you protect yourself, you decrease spread to everyone, including those you love, your co-workers and your neighbors. Getting boosted helps keep schools open and beneficial activities happening as scheduled. It supports robust economic activity. … Flights can run on time, and restaurants can stay open. … You could say that boosting yourself gives us all a boost toward endemic-stage COVID."
COVID-19 Vaccine Resources
Resources on the Role of Hospitals