Reducing the Risks of Wrong-Site Surgery: Safety Practices from The Joint Commission Center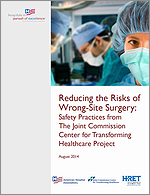 Although rare and difficult to study, wrong-site surgery is a serious risk recognized by health care organizations. Health care organizations in a variety of settings must manage the risks of wrong-site surgery to ensure the safety of patients. Preventing wrong-site surgery—which includes wrong-patient, wrong-procedure and wrong-side surgeries—is accomplished by creating a culture of safety and improving perioperative processes.
As part of the Joint Commission Center for Transforming Healthcare wrong-site surgery project, eight U.S. hospitals and ambulatory surgery centers measured the risk of wrong-site surgery in their perioperative processes, pinpointed the contributing causes and developed specific solutions targeted to each one. As a result, the health care organizations significantly reduced the number of surgical cases with risks for wrong-site surgery in four main areas: scheduling, pre-op/holding, operating room and organizational culture. Additional hospitals and ambulatory surgery centers that tested the work of the original organizations experienced the same improved results.
The provider organziations are:
AnMed Health, Anderson, S.C.
Center for Health Ambulatory Surgery Center, Peoria, Ill.
Holy Spirit Hospital, Harrisburg, Pa.
La Veta Surgical Center, Orange, Calif.
Mount Sinai Medical Center, New York, N.Y.
Rhode Island Hospital, Providence, R.I.
Seven Hills Surgery Center, Henderson, Nev.
Thomas Jefferson University Hospital, Philadelphia, Pa.
This report describes the types of risks for wrong-site surgery, their root causes and targeted solutions.
Key Resources
Held December 7, 2015 3:00 pm ET (2:00 pm CT; 1:00 pm MT; noon PT)
Members in Action: Improve Quality and Patient Outcomes<