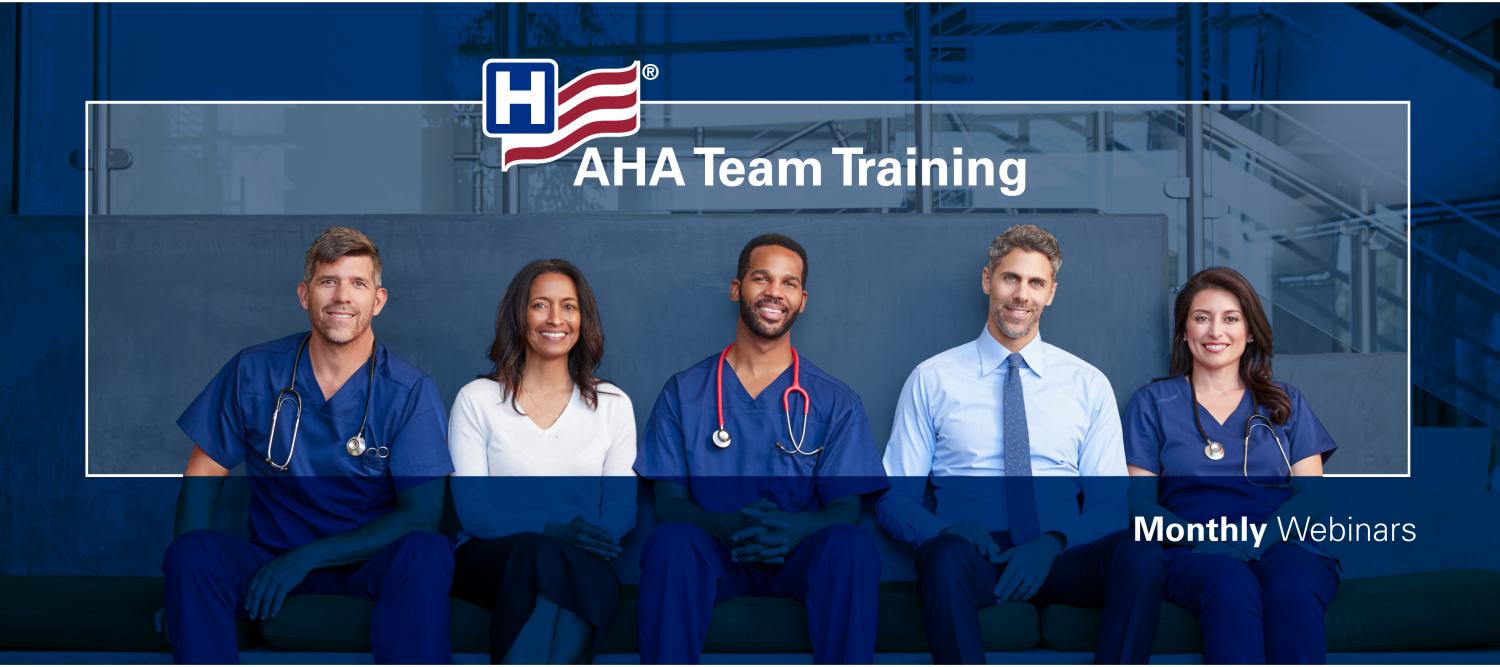 Improving Maternal & Neonatal Safety: Using Evidence-Based Best Practice, Teamwork & Simulation, and Quality Improvement Oct 11
Date
Wed, Oct 11, 2023, 12:00 PM – Wed, Oct 11, 2023, 01:00 PM
Event Host

Contact Information
AHA Team Training
312-422-2609
Open To
Members and Non-members
Description
Wednesday, October 11 at 1:00 pm ET (12:00 pm CT, 11:00 am MT, 10:00 am PT)
Join us for a fast-paced, facilitated panel discussion which will highlight the sobering statistics for both maternal and neonatal morbidity & mortality in the United States. This will be paired with current high reliability strategies of deference to expertise, high performance practices, and continuous process improvement that can be used to optimize maternal and neonatal care. Our panel of physicians and nursing experts will share their experience to help you understand and achieve real-life utilization of: 1) decreased variation, 2) standard communication and simulation, and 3) front-line participation in quality improvement, and 4) organizational framework for quality improvement in maternal and neonatal care.
Learning Objectives:
Describe current rates of maternal and neonatal morbidity and mortality in the United States compared to other developed nations
Incorporate evidence-based best practices in your entity to improve maternal and neonatal outcomes
Identify tools that utilize teamwork to improve maternal and neonatal outcomes
Recognize the important role of simulation and standard communication in improving maternal and neonatal outcomes
Incorporate quality improvement strategies within your team to improve maternal and neonatal outcomes
Engage front-line staff in processes aimed at improving patient outcomes
Speakers:
Athis Arunachalam, MD, MBA
Neonatal Medical Director, Houston Methodist Willowbrook
Associate Medical Director of Community Initiatives, Texas Children's Hospital
Stephanie Bruce, MD, MAS, FACOG
Assistant Chief Quality Officer, Houston Methodist Willowbrook
Assistant Site Dean, Texas A&M School of Medicine, Houston Methodist Willowbrook
Rakhi Dimino, MD, MMM CPE, FACOG
Maternal Medical Director, Houston Methodist Willowbrook
Medical Director of Operations, OB Hospitalist Group
Stacy Norton, MD, FACOG
Chief-of-Staff, Houston Methodist Willowbrook
Sharon Patagoc, MSN, RNC-OB, C-ONQS
Senior Program Manager for Women's and Infant's Health, Houston Methodist
Continuing Education:
Participants will earn 1.00 Joint Accreditation credit hour for this webinar by completing all CE requirements. CE credit is provided by Duke University Health System Clinical Education & Professional Development. They are accredited by the American Nurses Credentialing Center (ANCC), the Accreditation Council for Pharmacy Education (ACPE) and the Accreditation Council for Continuing Medical Education (ACCME).
In order to qualify for credit, you must have an active Duke OneLink Account and watch the webinar live. If you do not have a Duke OneLink account, please follow these directions to set up your account and confirm your mobile number (both steps are required). Please note this is a one-time set-up and you may use your account for all future AHA Team Training webinars.