Highlights from the 2022 AHA Annual Membership Meeting (Day 3)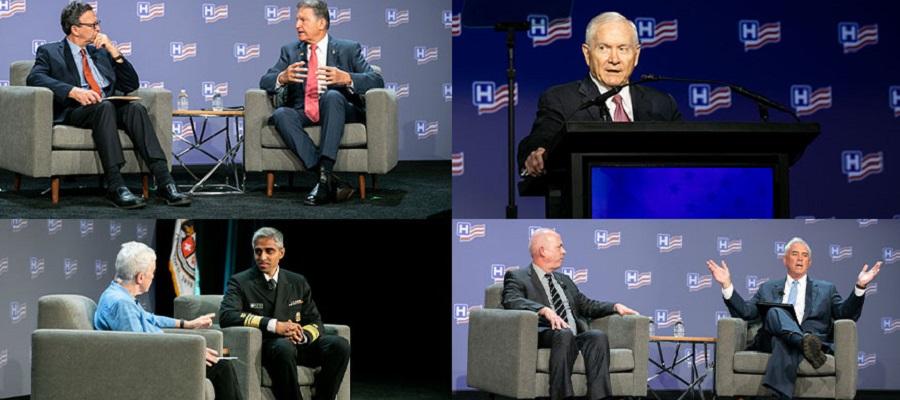 On the closing day of the AHA Annual Membership Meeting in Washington, D.C., attendees heard from more top policymakers and elected officials; celebrated awards; and discussed key issues impacting the field.
***

Manchin: Rural communities need more federal support; Congress a 'toxic atmosphere'
In a wide-ranging conversation at the AHA Annual Membership Meeting, Sen. Joe Manchin, D-W.Va., highlighted the need to better support rural hospitals, arguing that telehealth is inaccessible to many if broadband access isn't more widely available. Manchin said a big issue is the lack of equitable distribution of federal funds to rural communities, saying it's contributing to the social and political divide between rural and urban communities.
"Twenty percent of Americans — 66 million people — are identified as living in a rural area," Manchin said. "Don't you think that's where 20% of the funding, whether it's education or health care, should be directed?"
Manchin urged the nation to address its fiscal situation before moving massive pieces of costly legislation. "We're $30.4 trillion of public debt as of this morning … growing at an average of $4 billion a day," he said. "So, you better get your financial house in order."
Congress' partisan divide, which Manchin said is resulting in a "toxic work environment," belies the nation's actual sentiments. "If you went to work every day, and your fellow worker, co-worker, was trying to get you fired every day, it'd be a pretty hostile working environment," Manchin said. "You wouldn't want to work with that person."
Citizens, though, hold more power than they realize, Manchin stressed, saying it's up to them to demand more of their elected leaders.
***

Rep. Wenstrup vows to continue fight over agencies' unfair implementation of arbitration provision of surprise billing rule
Rep. Brad Wenstrup, R-Ohio, expressed frustration with federal agencies' efforts to implement provisions of the bipartisan surprise medical billing legislation passed in 2020, saying he'd continue to fight to ensure Congress' intent is reflected in the law's implementation. "Why do we have a Congress if the agencies are going to decide what the law is?" Wenstrup said.
Wenstrup, a surgeon and member of the House Ways and Means Committee, specifically was discussing the federal agencies' implementation of the arbitration process for determining payment for services by out-of-network providers. The AHA and other groups are challenging the provision, which unfairly benefits insurers and jeopardizes access to patient care, in court. The challenge will not prevent the law's core patient protections from moving forward or increase out-of-pocket costs to patients.
***

Surgeon General sees silver linings in pandemic, opportunities to prepare for future public health crises
U.S. Surgeon General Vice Admiral Vivek H. Murthy, M.D., urged hospitals to play a leading role in developing the trust and relationships that will help navigate future public health crises, saying the pandemic presents an opportunity to do better.
"If we simply snap back to the way of life and 2019 pre-pandemic, I think we will have lost a huge opportunity to do some honest reflection, to truly ask ourselves the question: How can we do better in terms of people, help people's health and how can we live better lives?" Murthy said.
Murthy expressed gratitude for hospitals' "extraordinary" response over the last two years. "I just want to recognize the tremendous job that folks in this room and your colleagues around the country have done — we have saved so many lives because of you, we are a stronger country because of you," Murthy said.
Murthy also stressed the opportunity and need to build a more connected health care system that will be more prepared for the next public health emergency, while addressing the social determinants of health. "Historically, we have looked at public health and the clinical professions and clinical work as separate," Murthy said. "It's two different areas. We need to really strengthen those collaborations."
***

Schumer, McConnell praise hospitals for efforts to battle COVID-19
In video messages shown today at AHA's Annual Membership Meeting, Senate Majority Leader Chuck Schumer, D-N.Y., and Senate Republican Leader Mitch McConnell, R-Ky., praised hospitals and health systems – and their front-line caregivers – for their courageous and heroic efforts to fight COVID-19 during the past two years. Both leaders noted the COVID-19-aid provisions enacted by Congress since the start of the pandemic, including billions of dollars allocated to hospitals through the Provider Relief Fund, and they vowed continued support for the field.
***

Gates closes annual meeting cautioning need for long-view approach to China, Russia
Former Secretary of Defense and CIA Director Robert Gates closed the AHA Annual Membership Meeting with a keynote address in which he discussed the state of play with Russia and China, opining that the former's invasion of Ukraine will be a long conflict, for which a peaceful outcome will be difficult to negotiate. China, he said, is a multidimensional power with influence around the world and a desire to assert itself.
***

AHA presented the following awards during its Annual Membership Meeting in Washington, D.C.
***

Podcasts
During the Annual Membership Meeting, we conducted a series of live podcasts with several speakers on a series of hot topics.