Technology is Reinventing Health and Medicine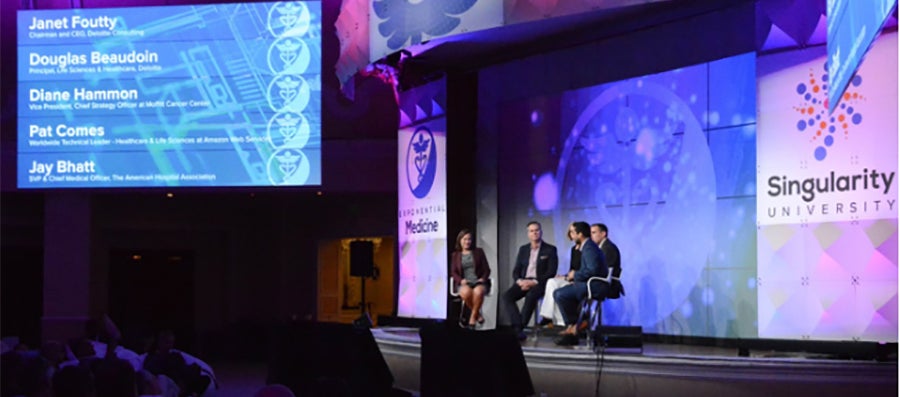 When many of the brightest people in the health care field gather for some epic brainstorming to predict what the future of health care will look like, the results deserve our attention. The message reverberating from last month's 2018 Exponential Medicine Conference on Health Care and Innovation, is that we are ramping up to an era of tumultuous change driven by new technologies that will empower patients to be partners in their own care more than ever.
The annual "EXMED" conference invites world-class faculty, innovators and leaders from across the biomedical and technology spectrum to explore the convergence of fast-moving technologies in the reinvention of health and medicine. It is a different kind of professional conference, an exuberant assembly of thinkers, doers and pioneers.
I participated on a panel that held a fascinating discussion about the changing expectations of health care consumers. Patients are gaining purchasing power, largely because of their increased ability to access and control their own health data. In an age where many aspects of daily life can be directed by apps installed on a mobile phone, people have become reliant on new technologies that deliver results quickly, conveniently and at the lowest cost possible – no matter their age, zip code or income. These expectations spill over to health care. Today, consumers anticipate better integration and care coordination, as well as increased efficiencies. They are willing to "shop" for the kind of care they want. Hospitals, health systems and health care organizations must embrace the fact that patient-centric care means new ways of doing business in the future.
What does this hold for the provider-patient relationship? Conference attendees predicted that a 24-hour connection between the patient and those monitoring them will become the norm, especially for chronic care patients. In coming years, it will be increasingly common for patients to self-monitor, using smart technology that measures metrics like heart rate, blood pressure, breathing and more. This data can be streamed from their device or smartphone app, and processed through algorithms that show how their health is evolving. Data will be able to indicate when intervention is necessary, or sound the alarm if a person is at risk of a stroke or presents symptoms that may suggest cancer. Both the patient and remote-care team can monitor the situation and make critical decisions early on.
As hospitals and health systems face unprecedented challenges and opportunities, this new capability is a game-changing moment for health care delivery. It is no longer business as usual. We are on the brink of massive change, but no one has to go at it alone.
The AHA is ready to help hospitals and health systems not only embrace change, but lead it. For example, our new AHA Center for Health Innovation is helping hospitals and health systems successfully implement change by sharing the latest market intelligence, identifying and disseminating leading practices, and testing new ideas to improve patient outcomes and increase value and affordability.
The health care landscape is being reshaped, and AHA will be among its sculptors.