AHA, CAPC offer palliative care strategies, tools aimed at quality and value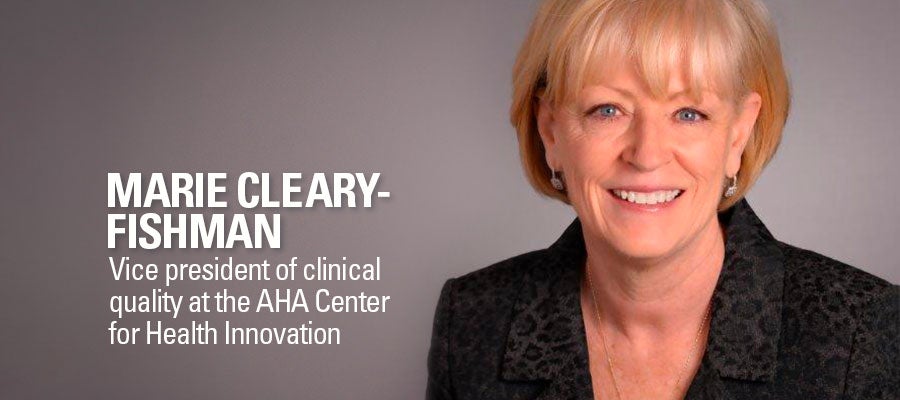 "I will remember that there is art to medicine as well as science, and that warmth, sympathy and understanding may outweigh the surgeon's knife or the chemist's drug."
This line in the modern version of the Hippocratic Oath certainly reflects the nature of palliative care — the medical subspecialty focusing on providing relief from the symptoms and stress of serious and complex illness.
Palliative care aims to improve the quality of life for both the patient and family. Simply, it provides the care that patients want. In fact, a 2011 Public Opinions Strategy poll showed that once people are informed about palliative care, 92% reported that they would be highly likely to consider palliative care for themselves or their families if they had a serious illness. The same percentage said they believe patients should have access to this type of care at hospitals nationwide.
The American Hospital Association recently announced a strategic partnership with the Center to Advance Palliative Care (CAPC) to improve patient care for people living with serious illness at hospitals and health systems across the country.
Our goal is to grow access to palliative care and adoption of a multidisciplinary, person-centric approach that achieves better outcomes and greater value. Evidence shows that well-coordinated collaboration across care settings and led by a properly trained palliative care team results in improved communications, increased patient and family engagement, greater physician and clinician support, and lower costs.
What's needed are increased acceptance of palliative care as a key strategy among hospital and health system leaders, as well as easier access to palliative care education and training.
Working closely with Diane Meier, M.D., director of CAPC, and Brynn Bowman, M.P.A., CAPC's vice president of education, we discovered that in a siloed health system, clinicians are trained to fix problems and focus on keeping patients well. However, there are missing workflows for seriously ill patients who face difficult care decisions, need pain and symptom management, as well as emotional support.
Training health care professionals across care settings in core palliative care skills enables providers to give patients the best quality of life possible. With a better understanding of these patients' complex needs, and with support from the specialty palliative care team when patient needs are complex, attending physicians and nurses can match the right resources to best meet those needs. That means not only greater patient satisfaction, but also less burden on hospital and health system staff.
Together with CAPC, AHA created a digital Palliative Care Support Hub where hospitals and health systems can go 24/7 to find everything they need for designing, measuring and expanding palliative care services that put patients first. It includes an online training catalog with courses ranging from the fundamentals of palliative care and strategic planning for the specialty service, to pain management, communications and crisis prevention for clinicians from all specialties.
Don Bignotti, M.D., former chief medical officer at Trinity Health and now chief clinical officer at Ascension Health, is leading the way in delivering high-quality palliative care. He told me that during his tenure at Trinity Health, they saw palliative care as a tremendous opportunity to improve pain scores, a key predictor of overall patient satisfaction. Don said that "there was no question that this was the right thing to do. Giving all our physicians and nurses better skills would give them the confidence to handle difficult patient care situations themselves and relieve the pressure on our specialists. It was a perfect way to accelerate what we were already trying to do."
Hospitals and health systems are taking action. As of 2016, more than 1,734 or 75% of U.S. hospitals with more than 50 beds had a palliative care team, so it's becoming the norm rather than the exception. But there's more work to do.
While the number of people in the U.S. older than 85 is expected to more than double to 14.1 million by 2040, resulting in a greater demand for palliative care, it is appropriate at any age and at any stage of illness, and can be provided in concert with all other medical treatments. Palliative care should be there when and where patients need it, whether they are young or old, have just received a diagnosis or are facing a terminal illness.
Forward-looking hospitals and health systems must successfully provide high-quality care for their most complex patients while remaining fiscally viable. On average, palliative care consultation is associated with a reduction of $3,237 per admission and, for patients with four or more diagnoses, cost savings are $4,865 per admission, according to a 2018 study in JAMA Internal Medicine.
A large body of evidence demonstrates that palliative care improves outcomes for seriously ill patients while decreasing costs for hospitals and health systems. That is why palliative care programs are essential, now and in the future.

Visit AHA.org/palcare to re-examine your approach to palliative care, identify patients who need additional support and learn how to build a care plan centered on whole-person care.